How Falling Cocoa Prices Are Messing With Colombia's Drug War
Convincing farmers to trade the cocaine business for the chocolate business is getting even harder than it used to be.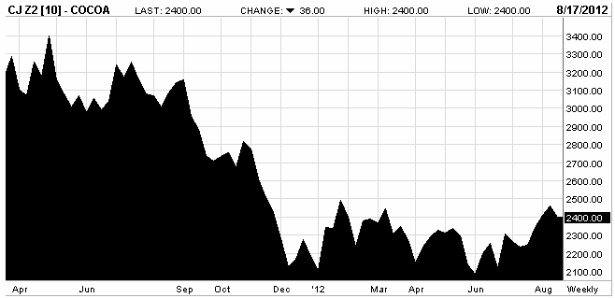 Fighting a drug war is always sort of an uphill slog, especially if you're a developing nation with sprawling, loosely governed rural regions ideal for growing illicit crops. Case in point: Colombia, long the world's cocaine depot. The government in Bogota has been playing whack-a-mole with the nation's prodigious coca crop for upwards of a decade, essentially spraying weed killer over the countryside to eradicate the plants, the leaves of which are used to produce of cocaine.
They've had some pretty impressive success, too. But lately, the global commodity markets haven't been cooperating. See that chart above? It tracks cocoa futures, as in the ingredient that goes into chocolate (mind the extra "o"). Prices have dropped pretty severely over the past year or so. That's great news for Cadbury and Nestle -- as well as Colombian narco-traffickers.
Here's why. To clamp down on coca cultivation, Colombia has to convince its small farmers to grow something legal instead. The government has settled on cocoa. It would one day like to become South America's second largest producer, after Brazil. But as Bloomberg reports, getting farmers to switch over to a new cash crop is really tough if it doesn't generate much cash. Since December, prices for Colombian cocoa have fallen by about 40 percent. Meanwhile, the price of coca leaves, which is drastically higher to begin with, has held nicely steady. For farmers, there's a fairly obvious temptation to just keep growing the more valuable plant, rather than suffer through the natural ups and downs of the cocoa trade.
"We are worried about the instability of prices in international markets for cocoa," one of the government's anti-coca point men told Bloomberg. "The government is creating strategies to attend to those vulnerable communities."
For Colombia, this is about more than just drug smuggling. Profits from cocaine production fuel the guerilla groups its been battling for upwards of five decades. So there are legitimate national concerns at play here.
Coca -- it's a helluva crop.