California Is Suddenly Adding Jobs Faster Than Texas—Why?
After the Great Recession, it became something of a sport among policy nerds to compare the relative merits of Texas' and California's economies. Think Goofus and Gallant, with high-unemployment, big government-loving California as the former, and low-regulation, job-creating Texas as the latter.
But as I noted earlier this month, and Bloomberg reports today, the Golden State now seems to be getting the upper hand:
California added 365,100 nonfarm jobs in the year ending in July, a 2.6 percent increase and the state's largest 12-month gain since 2000. Texas picked up 222,500, or 2.1 percent, according to U.S. Labor Department statistics. California also outpaced Texas the prior month.

Texas led California in job creation in 18 of the last 24 months, since August 2010, the first month both states posted employment gains following the longest recession since the 1930s. The latest numbers show that California has defied comparisons with financially troubled Greece, including a joking reference by Republican presidential candidate Mitt Romney earlier this month.
Yep, those Greece comparison are looking pretty silly. But why the switch? At Business Insider, Joe Weisenthal has put together an interesting graph illustrating one potential explanation. His theory is that California's economy thrives off housing, while Texas' runs on oil. And lately, housing's been on the mend, while oil hasn't moved much year over year. Here's a quick break down of how to read the chart, which a little complicated:
The red line compares the unemployment rates in the two states. When California's doing relatively better, it rises. 
The blue line compares the Golden State's housing market to the benchmark price of U.S. crude oil. When housing is the better performer, the line rises.  
Note how closely the two lines track each other. To quote Weisenthal: "When oil is doing well relative to housing, Texas benefits. When housing is doing well relative to oil, California benefits. Politics doesn't have much to do with it at all."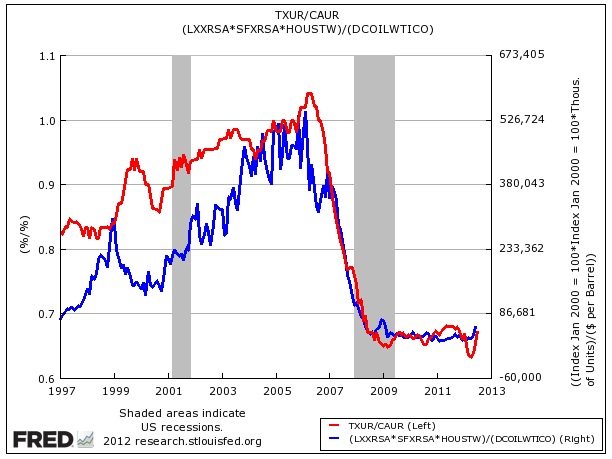 It's an interesting theory, but maybe too simple. Texas politics, for instance, are one of the reasons why the state had such strict lending standards that helped it avoid the housing boom and bust that nailed the rest of the Sun Belt, including California. The graph is also just a bit noisy towards the end, which makes it a little tough to interpret.
There's another reason why California may be seeing an uptick: growing government. Of the 365,000 jobs it's added in the past year, more than 40,000 have been in the public sector. That's even more than construction, which has added 27,000. Meanwhile, Texas has seen 36,000 government workers disappear.

None of this changes the fact that California still has a 10.7 percent unemployment rate, while Texas is at 7.2 percent. But it is perhaps a sign that it's time to stop using the two as proxies in the war over whether liberals or conservatives are better at creating jobs. It's clearly a bit more complicated than whether a state's policies are tinged red or blue.