Buy Corn! Sell Greece! The Best and Worst Investments of the Last 5 Depressing Years
Congratulations, world. It's been five years since the credit crunch began, and the global economy began to gradually -- and then all at once! -- implode. The good news is we avoided the abyss. The bad news is we didn't avoid a lost half decade.
It's been a particularly bad time for equity investors. Stocks will hopefully be better in the long run, but the medium run has been pretty miserable -- in the United States, China, Great Britain, Germany, Japan, and
especially in Greece
. The chart below from
James Mackintosh
of
The Financial Times
shows us just how miserable, comparing the best and worst-performing assets since BNP Paribas
unofficially inaugurated
the credit crisis.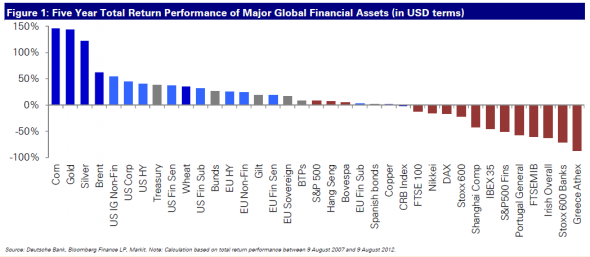 If you're looking for a good return on your money, you could have done a lot worse than piling into bonds and commodities. The former have risen in value as interest rates have dropped to historic lows, while the latter have surged due to emerging market growth and supply shocks. That's why we shouldn't read too much into corn's top performance -- our recent
record-setting drought
has sent their prices skyrocketing recently.
Hopefully we don't start seeing cash for corn shops springing up anytime soon.