Australia's Banks Are Now Worth More Than Europe's—How Is That Possible?
We finally know the real winner of the euro crisis. It's Australia.
Would you believe it if I told you that Australia's financial sector is worth more than the eurozone's financial sector? Well, it doesn't matter if you believe it or not. It's true. The technical term for this is "jaw-dropping." The chart below, from 
Cullen Roche
of
Pragmatic Capitalism
, puts it all in rather stunning picture perspective.
It turns out that depressions aren't so good for banks.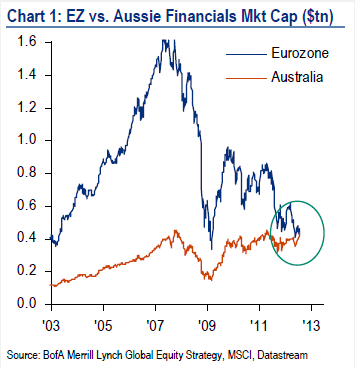 A big chunk of this shouldn't surprise us. European banks loaded up on subprime debt. Australian banks didn't. European banks made their own bad real estate loans. Australian banks didn't. And European banks are sitting on top of piles of dodgy sovereign debt. Australian banks aren't.
But this doesn't really make sense. It explains why Europe's financial sector fell much more in 2008 than Australia's financial sector did, but it doesn't explain why Europe's has kept falling and Australia's hasn't. The answer, as always, is that it's about the economy. Commodity exports -- thanks, China! -- have powered Australia, while the eurozone has self-immolated in a crisis of the common currency. What does that have to do with banks? Well, financial contracts assume that incomes will steadily go up. When incomes -- and the economy -- do not grow as expected, debts that should not have gone bad go bad.
Something incredibly bad and incredibly rare has happened to Europe's periphery since 2008. The total size of their economies have fallen. So-called nominal GDP, which is just inflation plus real growth, usually increases 5 percent a year -- and that's what banks count on when they make loans. If the economy grows less than that, otherwise creditworthy borrowers will have a harder and harder time paying back their debts. Including governments.
The chart below looks at nominal GDP "growth" (or lack thereof) in Australia and Europe's periphery since 2008. As
Evan Soltas
said, Europe's problems are nominal.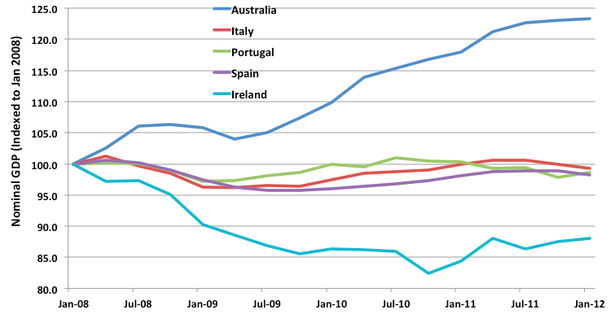 Australia's nominal GDP has grown at a healthy rate. Europe's has not.  That simple fact explains why Australia's banks have rebounded from the financial crisis and Europe's banks have not. Until or unless Europe gets its nominal GDP back to something close to trend, its financial sector will keep falling behind Australia's (and everybody else's).
In other words, Europe's banking crisis will only end when Europe's economic crisis does -- which in turn is being held back by its banking crisis. It's a never-ending cycle of awful that only the European Central Bank can break.
Maybe they will
.