Welcome to the McCovery! (Would You Like Jobs With That?)
For those looking for a bright spot in this jobs report, I suggest directing your attention to the food services industry. Manufacturing might be stalling. Teachers are getting pink slips. But at the very least, we've got a McCovery going.
In the past year, food services have added 270,000 jobs. Since March of 2010, when the industry started turning around, it's added 551,000 jobs.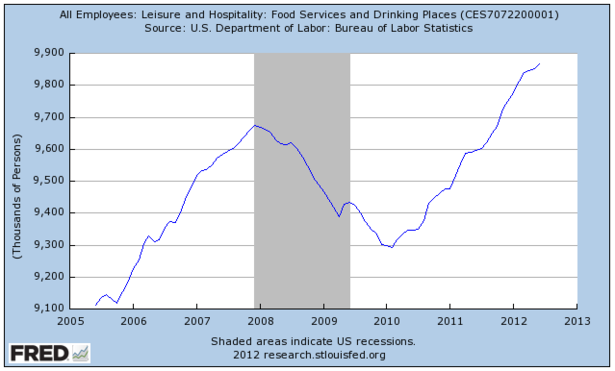 Obviously the restaurant business isn't exactly known for its pay or benefits. But could this be a good sign for the economy? Business Insider's Joe Weisenthal argues it might be.
@bkavoussi yes, but I'm looking at it as a signal of consumer willingness to spend on going out. Ultimate discretionary splurge.

-- Joseph Weisenthal (@TheStalwart) July 6, 2012
I'm not so sure I agree. As Bob Goldin, executive vice president at food industry consultant Technomic, noted to me this morning, eating out is often seen as an "affordable luxury." It's a chance to get away from the house, see friends, and relax without doing the dishes or blowing too much of your paycheck. Add in the fact that some of the hottest restaurant markets, such as Washington, D.C., weren't slowed much by the recession, and we shouldn't be surprised to see people willing to shell out a bit more often for a burger, even if they're tightening spending elsewhere. Given the way food services has been on a consistent climb regardless of the rest of the economy, I'm guessing that hiring at McDonalds sadly isn't a leading indicator.