These U.S. Cities Are Desperate for Smart Immigrants
New York, Silicon Valley, Washington, and our other economic hubs need far more skilled foreign workers than the government will let them have.
Every year, U.S. employers go begging to the federal government for the right to bring smart immigrants into the country to handle skill-intensive jobs. And every year, the government mostly says, "Sorry, no dice." Since 2004, demand for H-1B visas, which let college-educated foreigners come here to work for three to six years, has simply dwarfed the government's annual cap, which currently sits at 85,000.
This is often painted as a national issue. But really, it's a deeply local one. As shown in the map below, released by the Brookings Institute this month, demand for these visas is highly concentrated in a handful of metro areas. New York, Seattle, San Jose and San Francisco were desperate for skilled immigrants in 2010 and 2011. Charleston, South Carolina? Not so much.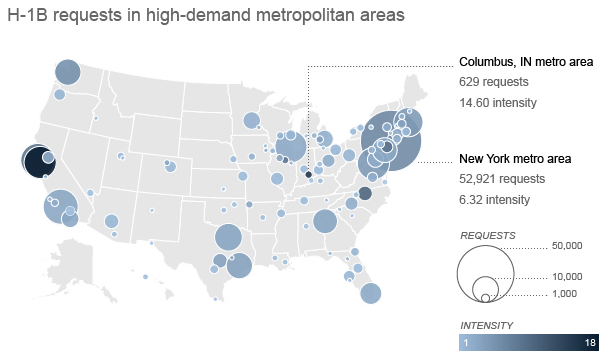 What this tells us is that, right now, we're trying to work a one-size-fits-all immigration policy that impacts the country in utterly uneven ways. One of the standard objections to raising the cap on skilled immigrants is that employers will hire them in lieu of better-paid American workers. But does anyone truly believe there's a shortage of demand for tech talent in San Francisco and San Jose, which between them were responsible for more than 31,000 H1-B requests, on average, in 2010 and 2011? More than half of these visa applications were for workers in the science, technology, and engineering, fields where even in 2010, college educated workers still had a less-than 4 percent unemployment rate nationally. In these major metro areas, the labor markets may be even more tight. Here is a more detailed table of where demand is coming from.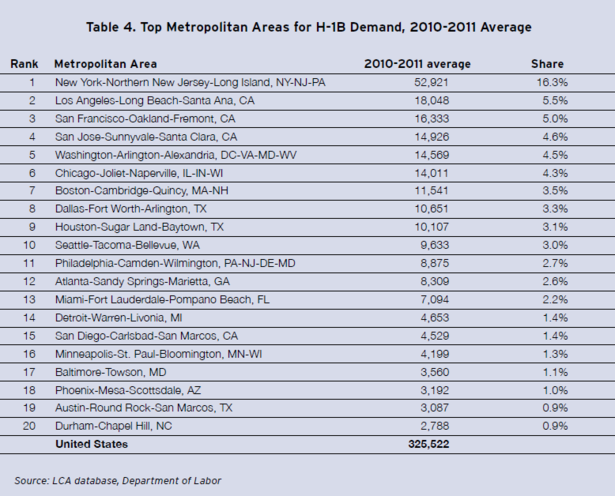 The U.S. has staked its economic future on cultivating advanced, knowledge-intensive industries, like tech and advanced manufacturing. And yet, our current setup is choking off those industries from the talent they need by trying to address the separate needs of vastly different metro economies with one, ill-fitting cap. The Brookings report's authors recommend that the U.S. form a commission to adjust the skilled immigrant caps in order to reflect local labor market conditions. That seems like a reasonable beginning to fixing a system where, right now, it's not clear that anybody wins.