The Story Behind Apple's Disappointing Quarter in 1 Simple Graph
If Moore's Law observes that technological capacity doubles every two years, Moore's Law of Tech Journalism observes that analysts' memories halve over the same horizon
In April this year, Apple announced their profit had doubled annually to a gob-smacking $11.6 billion, and analysts cheered the unique invincibility of the company. "This report should erase any doubt in investors' minds that this company can't continue to deliver," Jack Ablin, chief investment officer of Harris Private Bank, told Bloomberg. "It's astounding."
Three months later, Apple announced a net profit of "only" $8.8 billion, and its stock promptly fell 5%, with analysts telling of storm clouds and headwinds and the end of the Apple-ish profit margins. One explanation of this about-face is that, if Moore's Law observes that technological capacity doubles every two years, Moore's Law of Tech Journalism observes that analysts' memories halve over the same horizon. The other explanation is that something is changing at Apple.
In April, I presented
Apple's monster quarter in 4 charts
. Today I'll present their disappointing quarter in one image. It compares Apple's annual revenue growth, not by product, but by geography. Apple future, to the extent that it can continue to be the world's most profitable company, is in Asia. That's where the people are and that's where the growth is. As you can see, not only did Apple's YoY revenue decline across the world in the global slowdown, but also its Asian revenue growth slowed wayyyyy down.
In China, Apple's second biggest market, revenue rose about 50% from 2011, but that growth was way down from the second quarter.
Evidence abounds
that the Chinese economy is worse than the government will let on and weaker than its been since the recession in 2008.
In a few months, Apple will announce a new iPhone that will surely gobble up whatever is left of the world's discretionary income. But this quarter's announcement was a reminder that the most successful tech company in the world is still in the world, and when the whole world slows down, Apple feels it. Although it's essentially an American hardware company, Apple's future makes it look more like an Asian phone company. In its historically profitable quarters, Asian revenue growth outstrips the Americas by two or three to one. Without a new phone or strong Asian growth, it can disappoint -- even at $8 billion quarterly profit.
________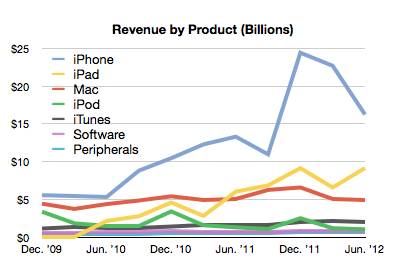 Coda: This is a nice graph of Apple's revenue per product over the last three years. Essentially, Apple has gone from being a phone, computer, and mp3 player company to being predominantly a phone company buffeted by a high, stable number of computer sales, with an ascendant product in the tablet space.