The Social Century: 100 Years of Talking, Watching, Reading and Writing in America
In 1900, communicating was simple. It was still simple in 1950. Then came the Cambrian explosion.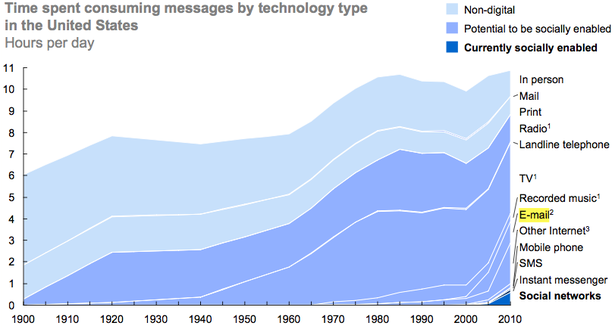 In 1900, communicating was simple. You could talk to somebody. You could write a letter. You could read ink, printed on paper. That was it, really. If you owned a telephone, you were the 1%.
In 1950, four in ten households owned a telephone or radio. Otherwise, the instruments of making and consuming information hadn't much changed. Talking to people and reading pages made up almost all of the rest of the typical family's communications diet. If you owned a television, you were the 9%.

In 2012, we've lived through a Cambrian explosion of communications technology. If you want to make or consume information, you can do it on Facebook, on Tumblr, on Twitter, on Pinterest, on Foursquare, in texts, on mobile phones, on land-line phones, on VOIP phones, on TV, on iPads, with head phones, with speakers, on the radio, in print, in the mail, and -- especially in the case of a Gchat and Twitter black out -- you are still permitted to speak into a real-live human's face, directly.

The graph at the top of this post, from a McKinsey Global Institute paper on social networks, is a 110-year history of talking, watching, reading, and writing. It's a fun graph to sort of gaze into and take in, but here are three things I found particularly interesting:

(1) In the late 1970s, Americans spent as much time watching TV and listening to radio (6 hours) as they did talking to people and reading in 1900. That's pretty remarkable as a statement of TV and radio's ability to capture and sustain attention.

(2) The graph has a harder time showing simultaneous communications consumption. When I watch TV, I'm often on my phone. When I'm listening to the radio, sometimes I'm also IMing. As more communications tools developed that engaged only one of our senses, or (like TV, and unlike reading) that required a very low level of attention, it allowed for easy simultaneous use of communications tech.
(3) It's interesting how new technologies expand the amount of time we spend communicating rather than replace each other within a finite band of talking/watching/reading/writing. The adoption of the land-line phone, for example doesn't seem to have replaced in-person conversation. It simply added about 2 hours to the typical person's communications diet. Moving from farms (where 40% of workers were employed in 1900) to factories and then finally to cubicles has dramatically expanded the time we can spend (indeed, must spend) keeping in touch with people and information.