The Single Most Important Experiment in Higher Education
Online education platform Coursera wants to drag elite education into the 21st century. And yesterday, the academy jumped on board.
Online education platform Coursera wants to drag elite education into the 21st century. Now, it's getting buy-in from the academy.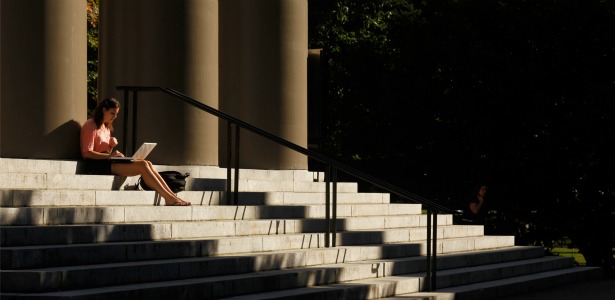 (Reuters)
As of yesterday, a year-old startup may well have become the most important experiment yet aimed at remaking higher education for the Internet age.
At the very least, it became the biggest.
A dozen major universities announced that they would begin providing content to Coursera, an innovative platform that makes interactive college classes available to the public free on the web. Next fall, it will offer at least 100 massive open online courses -- otherwise known as MOOCs*-- designed by professors from schools such as Princeton, CalTech, and Duke that will be capable of delivering lessons to more than 100,000 students at a time.
Founded by Stanford computer scientists Daphne Koller and Andrew Ng, Coursera is one of a handful of efforts aimed at using the web's cost savings to bring Ivy League-quality courses to the masses. Its peers include the joint Harvard-MIT project edX and Udacity, a free online university created by Google executive and former Stanford professor Sebstian Thrun. (Another high-profile startup, Minerva, is attempting to create an actual "online Ivy" that students will pay to attend.)
But the deals Coursera announced Tuesday may well prove to be an inflection point for online education, a sector that has traditionally been dominated by for-profit colleges known mostly for their noxious recruitment practices and poor results. That's because the new partnerships represent an embrace of web-based learning from across the top tier of U.S. universities. And where the elite colleges go, so goes the rest of academia.
Coursera has previously teamed with Stanford, Princeton, University of Pennsylvania, and University of Michigan to offer 43 courses, which according to the New York Times enrolled 680,000 students. It now adds to its roster Duke, Caltech, University of Virginia, Georgia Tech, University of Washington, Rice, Johns Hopkins, University of California San Francisco, University of Illinois Urbana-Champagne, University of Toronto, University of Edinburgh, and Switzerland's École Polytechnique Fédérale de Lausanne.
Only one school, the University of Washington, said it will give credit for its Coursera classes. But two others, University of Pennsylvania and Caltech, said they would invest $3.7 million into the enterprise, bringing the company's venture funding to more than $22 million. Literally, colleges are buying in.
And the bigger the buy-in, the better. The fundamental challenge for U.S. universities as they struggle to contain their costs is figuring out how to teach more students using fewer resources. That's what MOOCs were born to do. In theory, these automated classes have the power to create the first truly radical efficiency gains in the history of higher education, a leap that would take us light years beyond our creaky current system that, as Coursera's Koller noted to me in an interview, is still bound up in traditions that date back to the Middle Ages.
"Lectures came about several hundred years ago when there was one copy of the book, and the only person who had it was the professor," she said. "The only way to convey the content was for the professor to stand at the front of the room and read the book. One would hope that we had better capabilities these days."
We may have the capabilities. But academics are wary of them. In a recent poll by Inside Higher Ed and Babson Survey Research Group, 58 percent of professors said they were more afraid of online learning than excited by it. A full two thirds said learning outcomes on the web were inferior to in-person instruction. Yet, the more experience instructors had teaching online, the more positive they felt about it.
And therein lies Coursera's promise. The company does not consider itself an alternative to a traditional university. Rather, it's more of a market for learning. Schools that design classes for Coursera retain the rights to their work, meaning it's a risk-free way for them to dip into online education without building the technology infrastructure from scratch. In turn, professors can incorporate the web material into their regular courses, for instance by turning their 9 a.m. lectures into homework. In time, the process could breed more familiarity, less contempt, and much more efficient classrooms.
As Koller and Ng acknowledged in our interview, Coursera is still in some ways a work in progress. Its grading technology, they said, is capable of assessing sophisticated assignments in science and math, but the company is still working out the best way to handle longer written work for humanities and social science programs. And as with many Silicon Valley darlings, how it will generate revenue is also a bit of an open question. Ng suggested that some schools may sell branded certificates, or that Coursera could begin offering career placement services, matching employers with students who demonstrate specific skills.
I asked Ng if he felt that would risk turning Coursera into a competitor with the universities that provide its courses. His answer, in short, was no. The real value of attending an elite school, such as Caltech, he said, is not the content of the classes. Rather, it's time spent working directly with professors and other students. And by letting colleges put lectures online, Coursera has the potential to make more time for those interactions.
"With this technology, we're improving education for the hundreds of thousands of students out there, as well as improving it for the students on these campuses," Ng said.
That's an answer about Caltech or Princeton. What it leaves unaddressed is whether some day, students might choose to take inexpensive Coursera classes instead of attending a pricier mid-tier college. We can only speculate about that. But regardless of whether you believe that today's brick and mortar universities will be -- or should be -- our main vehicle for higher education in the long-term, yesterday's announcement should give you something to celebrate -- because while Coursera isn't looking to end college as we know it, it is trying to nudge it into the 21st century.
And colleges themselves seem to be on board.
_______________________________
*Not to be confused with the delightful epithet "mook," in case you're a Scorsese fan.