The Scariest Chart in Europe Just Got Even Scarier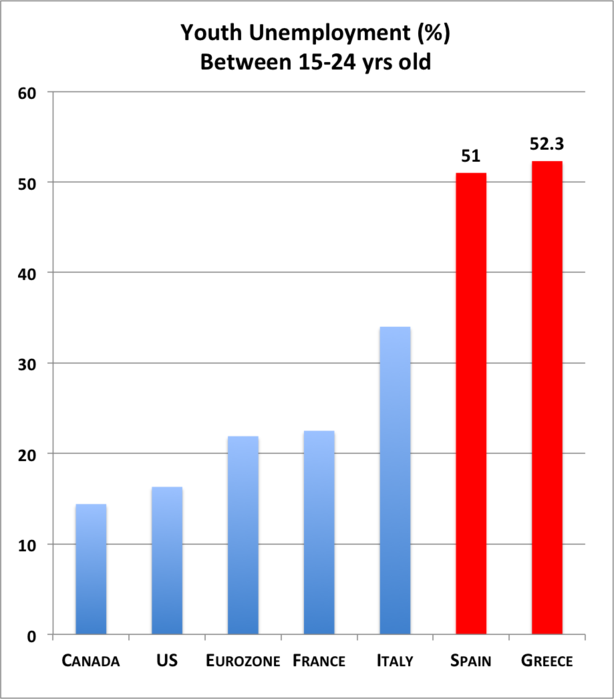 In March this year, for the first time on record, more than half of the young people in Spain and Greece were counted as unemployed by the OECD, which provided the chart above. Three months later, the situation is still getting worse.
Official youth unemployment in Greece and Spain has crossed 51 percent. That's worse than twice the rate of the entire euro zone (22%) and more than three times worse than the already-quite-bad youth unemployment in the United States and Canada (16% and 14%, respectively).
The mitigating factor is that the OECD's metrics for unemployment
might overstate
the severity of youth joblessness. A separate measure of the world's so-called NEETs (not employed, in education, or training) put the figure closer to 20 percent in Greece and Spain. Either way, the situation is tragic.
These economies got into trouble in different ways. Once they joined the euro, Greece built a government bubble, Spain built a housing bubble, and both economies are weighed down by inflated prices and wages than make their economies uncompetitive. Ironically, after a bubble built on too much money, austerity has starved both economies of the very thing they need more of today: money. Without the promise of more euros to support banks and businesses,
Spain is doomed and Greece is toast.