The Radical Libertarianism of Richard M. Daley
The progressive Democrat who ruled Chicago for 22 years has a simple explanation for America's decline: "The federal government destroyed big cities."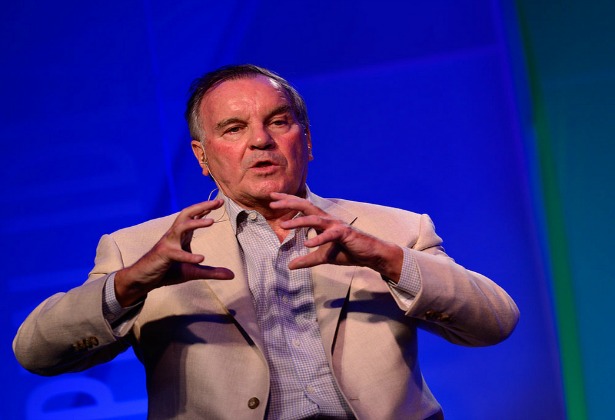 You would think you were at a Ron Paul rally.
Despite a storied career as a progressive reformer, ex-Chicago Mayor Richard M. Daley has little love for progressive policies when they come from the federal government. At this week's Aspen Ideas Festival in Colorado, Chicago's "Mayor for life" delivered an uncompromising takedown of the feds.
"Once the federal government said it was going to control urban education, it destroyed the cities," he said. "People fled. It didn't matter who you were ...They mandated everything in big cities. They destroyed us and they destroyed the middle class."
Despite his fierce support of local regulation on certain issues (gun control, climate change to name a few) Daley's reflection of his 22-years in office conveyed a hopelessness in federal power. "It's not the Obama administration. It's every administration since Roosevelt," he said. From immigration to education to foreign policy to Congress, he described an entire system of bumbling bureaucracy. "Could you see your board of directors meeting every day, continuously, all year around? Congress meets every day, all year around. They have more bureaucracy than the executive branch."
He introduced a utopian vision of the 21st century in which the federal government was reined in domestically and internationally to make way for a more nimble power structure of mayors working together. "We should dilute the power of the federal government," he said. "The more we do that, the better the city and state and the better it is for international relations."
"Mayors can deal with mayors," he said. But the federal government "is so bureaucratic and dysfunctional. There are good people there but they're getting in the way of the century. This century we should have economic power and aid" as opposed to going "the military route."
While Daley has long-depicted himself as an independent-minded Democrat, it's starting to feel like less of a coincidence that two of the country's most progressive mayors (Daley and Bloomberg) are finding it impossible to lend their full support behind a Democratically-controlled White House. Does the office of mayor just lend itself to federal antagonism?