The Hangover: How Las Vegas Explains the Past and Future of the Economy
The first American city of the new century is a dazzling, dizzying metaphor for our collapse -- hyperconstruction! preposterous gambles! concerted recklessness! -- and, just maybe, the way forward.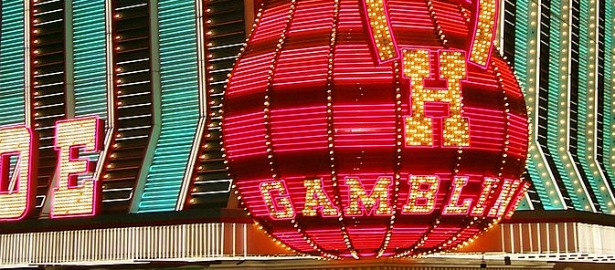 Reuters
On the plane, after a debaucherous weekend in Las Vegas, or after a tamer mid-week convention, you might look down at the neon and twinkling sprawl and sigh. You're headed home, back to the real America, the America where the main commercial thoroughfare isn't a parade of drunks, gamblers and prostitutes. Vegas, you comfort yourself, is aberrant, a preposterous desert carnivale and one you can forget -- hope to forget! -- as soon as you depart.
The reality, however, is quite the opposite. Las Vegas might be the country's crazy little brother we see only once per year. But now, his ethos is ours. Las Vegas isn't aberrant. It's emblematic.
In Michael Lewis' telling, a Las Vegas ballroom served as the epicenter of the collapse of the world economy. How fitting.
Recall the classic scene in Michael Lewis' "The Big Short" at a subprime mortgage conference at the Venetian hotel on the Las Vegas Strip. While being served by the very type of cocktail waitresses who had likely been given subprime loans they couldn't afford, Lewis's hero Steve Eisman discovers how insane Wall Street had gone in its love affair with subprime, and with collateralized debt obligations and credit default swaps.
"Above the roulette tables," Lewis writes, "screens listed the results of the most recent 20 spins of the wheel. Gamblers would see that it had come up black the past eight spins, marvel at the improbability, and feel in their bones that the tiny silver ball was now more likely to land on red. That was the reason the casino bothered to list the wheel's most recent spin: to help gamblers to delude themselves."
For those of us who live in Las Vegas, this episode had particular resonance, because it seemed entirely appropriate that a Las Vegas ballroom would be the epicenter of the collapse of the world economy. We supplied many of the bad and often phony borrowers to buy the newly built, shoddy homes with mortgages that were later securitized.

WE ARE ALL VEGAS

It's hardly coincidence that financial industry critics have taken to calling Wall Street a giant casino. The results for both of us have been less than ideal. The Las Vegas economy remains a basket case, with an unemployment rate of 12 percent, plus clogged bankruptcy courts and a ravaged real estate market. The American economy isn't doing much better.
The Vegas-ized American economy wasn't always a tragic tale, however. Not long ago, Las Vegas was to be the first American city of the new century, and its growth and broadly shared prosperity considered miraculous in the face of the rest of the country's post-industrial stagnant wages and widening wealth disparities.
In his seminal 2002 book "Neon Metropolis," the late University of Nevada Las Vegas historian Hal Rothman captured Las Vegas as the post-modern city of the age: "Las Vegas now symbolizes the new America, the latest in the American dream capitals....It is the place to be as the new century takes shape, for in its ability to simultaneously attract and repel, it characterizes American hopes and fears. Las Vegas tells us what has happened to American society and what we now aspire to: simple possession of the ethos of status."
As Rothman notes, no matter who you are or what your aims, you can get anything you want in Las Vegas if you're willing to pay for it, so it's no surprise that it was America's fastest growing city in the Second Gilded Age.
But let's step away from the airy sociology. The parallel paths of America and Las Vegas are quite evident and concrete. By changing its gambling licensing requirements, Nevada allowed corporations into the market in 1967. Eventually, the mob couldn't compete, and Nevada's power brokers figured out the real money didn't reside in seedy ethnic social clubs -- it was in the corporate boardrooms.
Over time, Las Vegas would benefit from the libertarian ethos -- both social and economic -- that arose out of the 1960s and 70s. The stigma of gambling lessened, not just card games and dice, but also in the financial markets, where regulators and financiers alike believed risk had been mastered.
As Americans embraced gambling and experiential vacations, Vegas seemed like a sure bet. But where to get the money to build? Michael Milken, the junk bond king, stepped up and helped finance Steve Wynn's Mirage, which opened in 1989 to skepticism. It had to gross an unheard of $1 million per day to stay afloat. It blew through that and then some, and the boom was on.
What emerged is the modern Strip as we know it, from the pyramid to the faux New York City skyline, from the medieval castle to the Eiffel Tower. And in-between their frequent trips to Vegas -- 40 million people visit the city every year -- Americans were increasingly visiting casinos at home, often managed and sometimes owned by the same Vegas companies.
Wall Street and Vegas became locked in a lover's embrace that wasn't always healthy for either. Casino companies consolidated, went public, then private and public again, amassing huge debts in the process. MGM Resorts International has $12 billion in debt; Caesars Entertainment a staggering $23 billion.
Although he recognized that Las Vegas was unique, Rothman posited that Vegas provided a model for post-industrial American cities.
Wall Street and Vegas became locked in a lover's embrace that wasn't always healthy for either
Las Vegas sold entertainment and the "Las Vegas experience," while other cities would have to find their way in the new service economy. Our strong union culture on the Strip pushed up wages and allowed unskilled, uneducated workers -- many of them immigrants -- to achieve a piece of the American Dream.
The population of Clark County, home to the Las Vegas Strip, nearly doubled between 1990 and 2000, to 1.4 million, and then increased 42 percent more in the next decade to nearly 2 million.
There was more to the story of Las Vegas prosperity, however, than the unconventional service economy. Las Vegas actually had a booming manufacturing base, though it wasn't conventional manufacturing. It was the manufacture of homes, strip malls and casinos -- a debt financed building boom.
Las Vegas was ground zero of the housing bubble. "Construction workers building houses for construction workers who were here to build houses for other construction workers," a Nevada economist marveled to me once. In the end, home prices would decline 60 percent, and 65 percent of homeowners are underwater on their mortgages.
As the Brookings Institution's Mark Muro points out, Las Vegas was also a microcosm of the rest of the United States in our over-reliance on certain sectors. Just as the U.S. became heavily dependent on financialization and selling each other houses, Las Vegas before the crash generated more than half of its metropolitan private sector GDP from a narrow band of consumption activities - real estate activities, construction, eating, drinking, hospitality. For San Jose, by contrast, these sectors contributed just 21 percent to its GDP.

Is your diagnosis of the American economy an over-reliance on consumption and a disturbing nonchalance toward risk and debt? That was Las Vegas in a nutshell. As Muro notes, Nevada lost a staggering 170,000 jobs in the recession, 120,000 of which were in real estate, construction, food and drink and tourism.
If you think responsibility -- personal, corporate and political -- went missing the past few decades, well, we made lack of accountability a slogan: "What happens here, stays here."
"Vegas was the rest of the country, but with its foot on the gas," says Robert Lang, director of Brookings Mountain West at UNLV.
When the crash came to Vegas, it came hard. And it became apparent that easy and fast money had acted as a mask of our deeper social problems, which were suddenly exposed in a very harsh light. Our schools and universities were foundering, held back by a regressive, inadequate and patched together tax system. Our health care was mediocre at best. We led the nation in suicide and divorce and addiction. And as a pop-up community, we didn't have the social capital of older communities that helped them rally together to solve common problems. With all that house-flipping, as well as poorly designed suburban neighborhoods that don't encourage interaction, Las Vegans often barely know their neighbors.
Again, like modern America, only more so.
THE NEW VEGAS

This being America though, even a broke, down-on-his-luck loser can catch a break, and Las Vegas might be coming back. There's a recognition among elites that the good old days aren't returning. (And that the champagne of the good times had castor beans in it anyway.)
Gov. Brian Sandoval, a Republican increasingly distinct from the national party's pre-New Deal orthodoxy, unveiled an economic plan earlier this year that leans heavily on education as a way to diversify the economy into potential growth sectors beyond tourism and gambling, including health care, information technology infrastructure, renewable energy, mining, transportation, and aerospace and defense. The governor's brain trust hopes the Nevada economy will look different in a couple decades, just as Denver and Dallas, the poster children of the excesses of the S&L debacle, have become innovative, prosperous and stable economies.
A little luck helps. And that's where Tony Hsieh comes in. Hsieh is the CEO of Zappos, the big online apparel company now owned by Amazon.
Zappos, which is famous for its customer-service-focused call center, struggled to find workers in the Bay Area who understood the customer service mission. So in 2004, the company moved to suburban Las Vegas, where it found cheap real estate and workers, schooled in casino culture, who were familiar with the customer service ethic and the 24 hour workday.
The company has thrived in Las Vegas, and now Hsieh has set his sights on a bigger mission. Hsieh is a passionate urbanist, given to handing out copies of Harvard economist Edward Glaeser's book, Triumph of the City, to anyone in shouting distance. Unlike his tech company brethren, who have tended to build massive, self-contained campuses on the edge of their tech city locales, Hsieh decided to move Zappos to downtown Las Vegas, into the old city hall.
Silicon Vegas? Don't laugh.
It was a bold move. Despite pockets of promise, downtown Las Vegas, which is home to the city's older and less glamorous hotels, has not witnessed the urban renaissance that has swept so many other cities across the country. (Imagine Hartford with casinos instead of insurance companies.) Hsieh also created an entity called the Downtown Project and gave it $350 million in seed money to start tech startups and community minded small businesses.
Can it work? Time will tell, though the energy is palpable. GigaOM recently profiled five Vegas tech companies to watch, a development that would have been unheard of even two years ago. Hsieh has rented out 50 units of a downtown condo tower and turned it into a freewheeling tech and culture salon, like a college dorm for a Vegas Ted conference.
I can't begin to tell you how foreign this seems in Las Vegas. The city lacks a high powered research university or much recent history of innovation outside the casino industry, but Hsieh believes it can be done, if by sheer force of will. His aspirations are bigger than just a few successful startups, however. He wants to build community, a place that fosters collaboration and learning and passion and compassion. These are not exactly character traits of Las Vegas, a city that, like Wall Street, can be hard and rapacious in its hunt for the easy marks. Hsieh says that if it can be done in the unlikeliest of places, it can be done anywhere.
Half of the world's population live in cities, and three-fourths will in our lifetimes, he notes. "Our goal is to share what works and what doesn't work, and inspire other cities," he says. "If you can make downtown Las Vegas the most community driven and learning-focused place in America, it's like the four minute mile. Downtown Las Vegas is the four minute mile."
Just as for two decades what was wrong with America was bound up with the Vegas ethos, perhaps a corollary will also prove true -- that a better Las Vegas means a better America is on the way.
>