The Economy Stinks, but at Least Corporate Profits Are at 60-Year Highs!
Today's middling economic growth report confirmed what many had already expected: The U.S. has been slowing down. The economy expanded at a laggardly 1.5 percent annual rate, down from 2 percent in the first quarter. Less expected was some of the news about the last few years of corporate profits, which were revised down for the last several years. By one pre-tax measure, they were 6 percent lower in 2011 and 5.4 percent lower in 2010. The New York Times speculates that the figures "might modify" public perception about how fast companies have bounced back.
It shouldn't really. Yes, corporate America has been billions of dollars poorer than we previously thought. But profits, as shown in the graph below, have still rebounded to all-time highs during the past few years.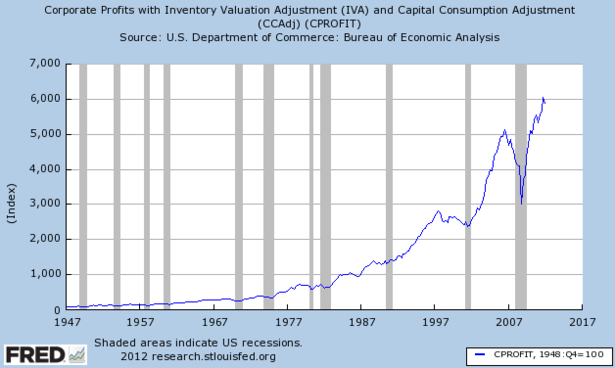 As a share of gross domestic product, corporate profits hit a 60-year peak at the end of 2011. They're currently just a shade 2006 levels. You'd have to time-travel back to the Eisenhower administration to find an era when companies' pre-tax earnings made up a larger share of the economy.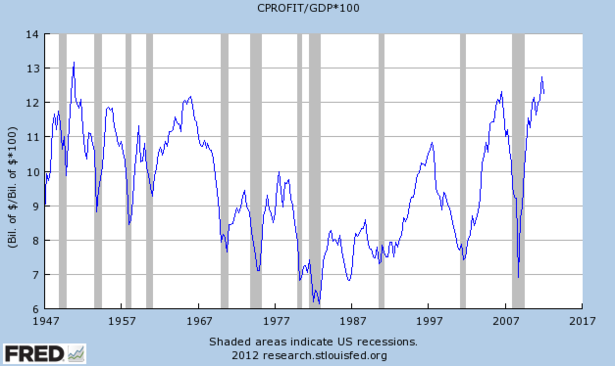 So yes, corporate America hasn't fared quite as well post-recession as we had thought. But it's collective bottom line truly is doing just fine.