The Dramatic 30-Year Decline of Young Drivers (In 1 Chart)
It used to be that getting a driver's license was considered a crucial milestone on the path to adulthood -- a laminated, card-sized declaration of independence from your parents. But over the past three decades, getting behind the wheel has lost its appeal for a large chunk of American teens and twenty-somethings, as shown in this graph from a report by Michael Sivak and Brandon Schoettle of the University of Michigan Transportation Research Institute.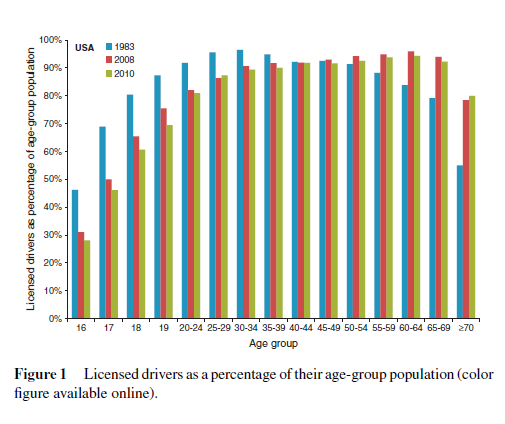 Since 1983, the percentage of Americans with licenses has fallen for every age group under 50. But the most dramatic downward shifts by far have been among the young. And for the most part, that slumping trend continued between 2008 and 2010. This would seem to suggest that the
decline of car sales
among Generation Y isn't just the product of a bad economy. Instead, the whole demographic, even the very youngest who would probably be driving their parents' ride anyway, may be shifting its transportation habits. 
What's the cause? Sivak and Schoettle say we can thank the Internet. A previous study of theirs found that the fraction of young drivers with licenses was inversely proportional to web access. Of course, no single cause can explain a complicated cultural trend such as how we get around. But its reasonable to suspect that young people's love of the Internet is playing a role. 
After all, who needs to drive over to a friend's house when you have GChat?