The Currency War Is Over! Long Live the Currency War!
If you're reading this, congratulations. You survived the Great Currency War of 2007-12.
What? You didn't realize there was a currency war? Well, there was. At least if you listened to
Brazil
. The gist was that countries would competitively devalue their currencies to try to get a trade advantage over their rivals. There's
nothing wrong
with doing this
during a global slump
-- it's how
recovery started
during the Great Depression -- but there is a tremendous risk. That risk is that a currency war will beget a trade war. In other words, countries won't just print money to get an edge; they'll put up trade barriers instead.
But the biggest currency imbalance looks to be mostly over.
Alan Beattie
of
The Financial Times
recently pointed out that China's currency, the renminbi, is looking much, much less undervalued nowadays. The Peterson Institute pins it as 7.7 percent undervalued against the dollar in 2012 versus 28.5 percent in 2011. That's partly due to China's higher inflation, but mostly due to China's trade surplus falling quite rapidly.
The chart below compares 
The Economist's
famed
Big Mac index
from July 2012 and July 2007, and tells much the same story. It estimates how over-or-undervalued a currency is based on -- yes -- Big Mac prices. The RMB is still undervalued, but much less so.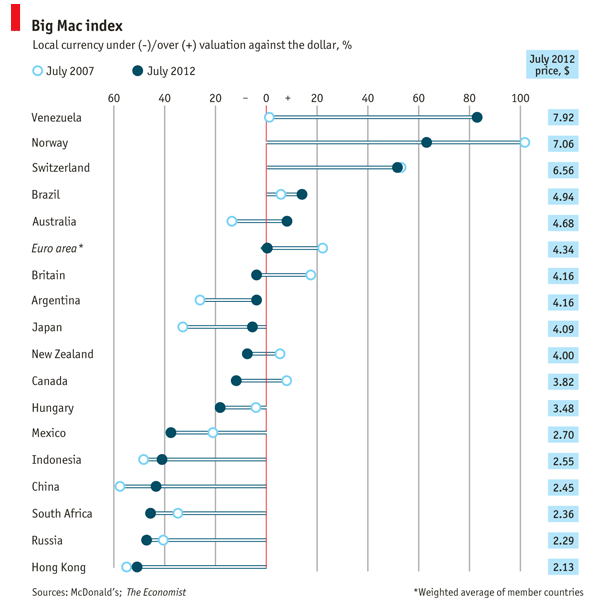 Three other big takeaways from this chart. First, the euro has dropped a considerable amount the past five years, but likely has to
drop a good deal further
if the common currency wants to keep being a currency. Second, the global crisis hasn't done the yen any favors. And third, Japan might want to emulate Switzerland, which has
pegged its currency
to the euro to prevent it from becoming off-the-charts overvalued.
The Great Currency War of 2007-12 might be over, but unless the global economy suddenly takes off, The Greater Currency War of 2013 might take off.