The Biggest Movie Franchises of All Time in 2 Charts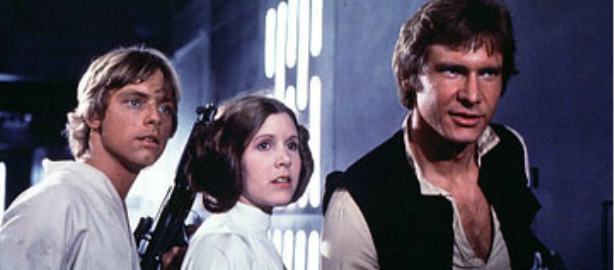 (Wikimedia Commons)
There's only one thing Hollywood loves more than a hit movie: a hit movie that it can make over and over and over again. (Sorry, Titantic).
In other words, a film that spawns sequels. Oh so many sequels. It's not hard to see why Hollywood lusts after franchises. Studios are in the business of making profitable movies. Like any other business, that means minimizing risk -- in this case, the risk of making a bust. (Sorry,
John Carter
). Sequels are by definition more of what studios know people already like, whether that's a spy, a wizard, a superhero ... or all of the above. (I'd like to be the first to trademark the inevitable Harry Potter-James Bond crossover).
That's not to say that there aren't some
great, great movie franchises
. And more than a few of them appear on the chart below, which looks at the ten highest grossing franchises in the postwar period, adjusted for inflation. Even if Christopher Nolan's
The Dark Knight Rises
takes a sledgehammer to box office records this weekend, Batman still has a long way to go to catch the competition.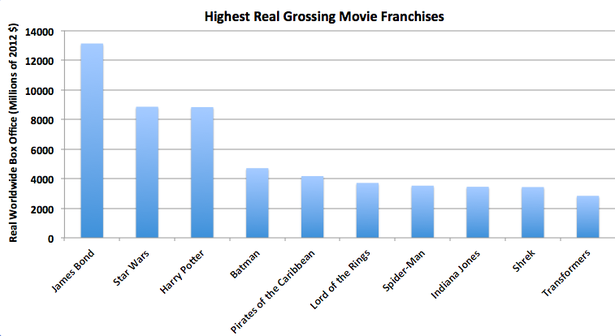 The past decade has been a golden age for sequels. Every one of these franchises either launched, rebooted, or added a new chapter in the last ten years. Bu studios aren't only making sequels. They're watching each other making sequels -- and making more of them in turn. We might call this the James Bond strategy. Agent 007 has made much, much more money than any other movie franchise, but only because there have been many, many more films with Agent 007 -- 23, to be exact.
We get a much different picture if we look at how much each franchise has made per film. George Lucas and J.K. Rowling's creations still rather impressively rank among the top three, but we bid adieu to Britain's man with a license to kill.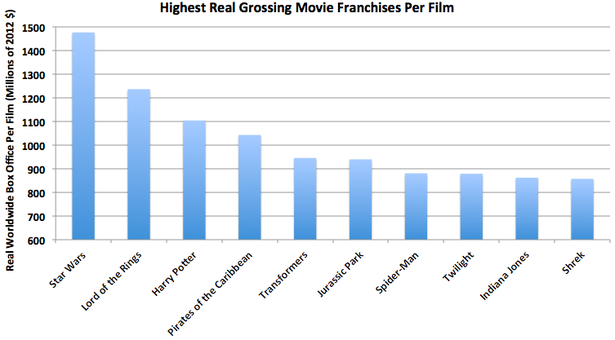 This is why the forthcoming Peter Jackson adaptation of The Hobbit might go from
two to three films
. And why Jurassic Park is set to reboot with a
new trilogy
. And a
fifth
Indiana Jones movie is in the works. And why you shouldn't bet against a new Pirates of the Caribbean coming out sometime soon.
I'm telling you, it's only a matter of time before Harry Potter grows up to become a British secret agent.