The Best Tech Stock of the Year Is ... AOL?
Economics riddle! You are approached by a wizard. He gives you $100. He promises he can take you back in time, one year exactly, to bet the money on some of the hottest tech companies in the world: Facebook, Netflix, Zynga, Microsoft, Groupon, or Apple. There's a catch. Before you go back in time, you have to tell him where you're going to bet immediately, without doing any research. Where do you bet?
Business Insider's Jay Yarow, via Rebecca Greenfield, passes along this frankly shocking graph showing that the best bet turns out to be ... AOL?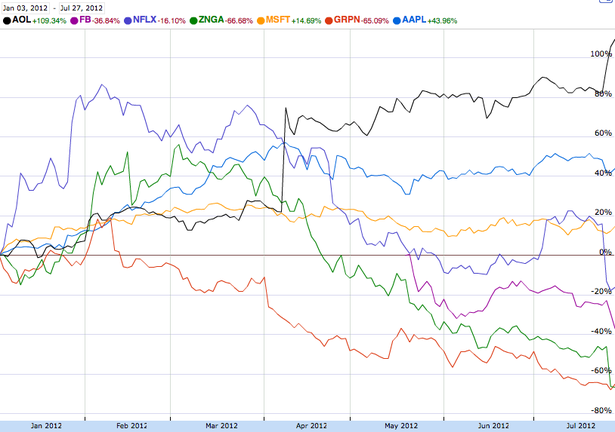 A year ago, AOL was treading water, barely breathing, while Groupon cruised into its IPO with the tailwind of media fawning. Now the former's stock is up 100% and the latter's is down nearly 80% in the last 12 months. Netflix was on its way to a spectacular 2012 before the Qwikster debacle helped send its stock to a two-year low. It is not for noting that the four companies with negative growth this year -- Groupon, Zynga, Facebook, and Netflix -- are considered the gate-crashers of the tech world. Getting people's attention is one thing. Making money consistently in a crowded and ferocious environment to please nervous investors is another.

As a coda: Imagine you played this game ten years ago exactly. It turns out that if you weren't betting on Apple or Netfix (which went public in May 2002), you either made or lost a few dollar, total.