The $5 Trillion Stash: U.S. Corporations' Money Hoard Is Bigger Than the GDP of Germany
You can't blame corporations for wanting a security blanket during the past few years, what with the world economy always seeming one more pointless Congressional showdown or odd European election away from catastrophe. But as Reuters' David Cay Johnston points out this week, American companies may be hoarding more cash than most of us had previously realized -- about $5 trillion worth, as of 2009.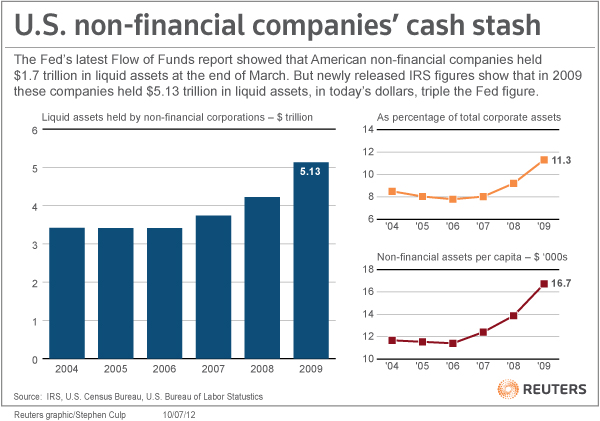 The Federal Reserve reported that, at the end of March, U.S. corporations held $1.7 trillion in cash reserves, which they keep in treasuries, other bonds, and bank accounts. But that only covers the money companies are keeping on hand domestically. Johnson came up with his eye-popping figure by looking at recently released IRS documents that track companies' worldwide holdings.
Obviously, the precise amount of money sitting on the sidelines may have changed by now. But there's no reason to assume it's grown appreciably smaller, which is a problem. As Michael Mandel of the Progressive Policy Institute has written, lagging business investment is one of the chief problems slowing down our recovery. Companies are letting money sit idle, accruing minimal interest, rather than spending it on new equipment or offices -- and that's not even touching research and development or new employees.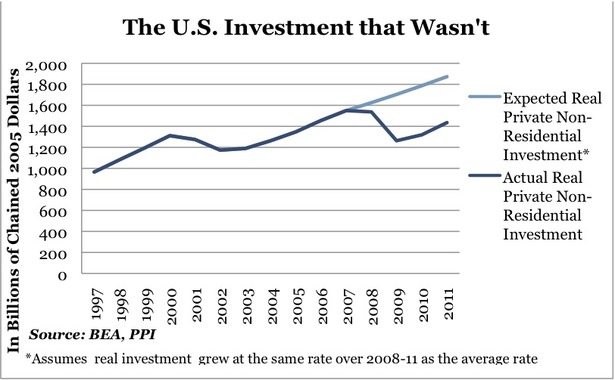 How do we coax corporations to spend more? Johnston suggests enforcing tax penalties on companies that hold excessive cash reserves. In the meantime, companies are going to keep stuffing cash into their mattresses until the economy calms down.