The 5 Olympic Sports Where Being Rich Matters the Most
In the Olympics, as in life, the rich get it all. The countries who bring home the most gold have historically been the countries with the most wealth to begin with. But which sports have the rich developed democracies of the world particularly dominated?

Goldman Sachs ran the numbers for you, and here's what they've got:
First, Goldman applied a home-made formula called Growth Environmental Scores -- which uses income and other data to determine those countries with the healthiest long-term growth opportunities -- and checked it against medal attainment. It turns out that swimming, table tennis, and fencing are the three sports where (Goldman's idea of) strong institutions and high incomes are most strongly associated with medalling.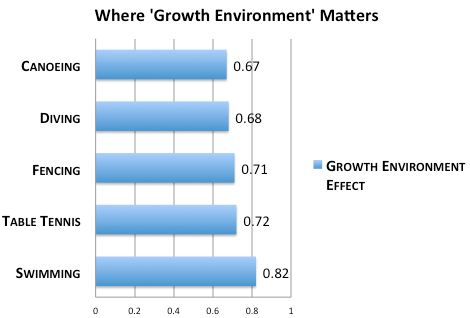 But forget institutions for the moment. For what events is straight-up income (GDP per capita) most important? Goldman found the association between money and medals was strongest, by far, in the cycling competition, followed by Judo, rowing, and (again) swimming.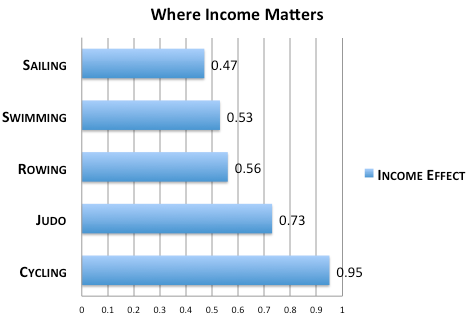 Finally, it's well known that playing host can pay off at the podium. In 2008, for example, host nation China led the world in gold medals. Goldman considered the calculated the games' home-field advantage, and the relationship between hosting the Olympics and winning medals was strongest in gymnastics, swimming (again), and cycling (again).

The takeaway here is not that rich people are better natural swimmers. Rather, income and democratic institutions appear to dependably produce superior athletes in Olympic competition. There are many, many reasons why this could be the case, and I won't touch them all, but I'll name three.
-- The first is infrastructure. Pools are expensive, and sail boats are expensive, and modern gyms are expensive, and the facilities required to produce the world's greatest athletes in dozens of sports every four years is a costly undertaking that you're unlikely to find in a developing country.
-- The second is talent magnetism. For both coaches and players, talent clusters. Developing countries produce some exceptional athletes, but families looking to get their talented child ahead in life might be more likely to migrate to richer economies.
-- The third is earned success. Goldman suggests that the nature of democratic institutions encourage and spotlight exceptional human achievement at a "fundamental level."