The 10 (Surprising) Companies That Make More Money Online Than Facebook
The social networking company may dominate the headlines, but not the top line.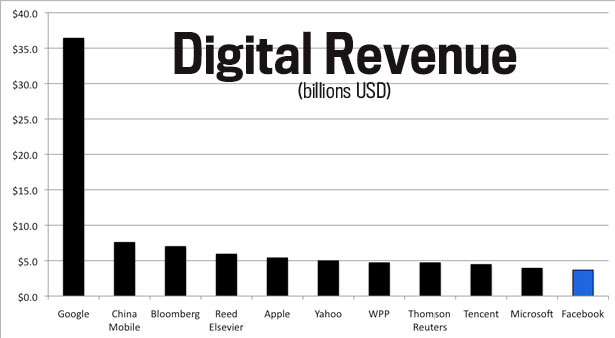 Facebook has more users than any service in the world, as they slowly close in on a billion. But when it comes to revenue, many old and new companies are generating more revenue in the digital world than Facebook.
PaidContent assembled a list of the companies generating the most revenue "from digital content, or from the advertising around that content." They released it today and, surprisingly, Facebook is currently sitting at number 11.
Who are the 10 companies ahead of Zuckerberg's empire? Google is the clear leader, but you'll also find old rivals Yahoo, Apple, and Microsoft. The business information players are also strong: Bloomberg, Reed Elsevier (an investor in PaidContent, BTW), and Thomson Reuters. And last but not least, as in all things, don't forget China! Telco China Mobile and general tech player Tencent both make appearances on the top 10.
There is some good news for Facebook, though: they're the only social networking site on the list. You won't find a Tumblr, Twitter, or Pinterest in the top 50 global digital revenue generators.
Not every company makes these numbers easy to access, so in some cases, PaidContent has made educated guesses based on research. They (impressively) explain their methodology for each individual company on the list.