The 1 Chart Our Politicians Need to Look At
Remember when the U.S. was supposed to face a fiscal crisis within
two year's time
? That was a year and a half ago. Well, markets apparently haven't gotten the memo. Borrowing costs are at an all-time low. As in, they have never been lower going back to 1790.
And this isn't a story about reserve currency status, either. Every advanced country that can print its own money -- and even some that can't -- have seen their bond yields fall to levels that would have been mostly unthinkable over the past century. The chart below, from
Global Financial Data
(via
Barry Ritholtz
), shows the borrowing costs for the U.S. (red), Spain (purple), Switzerland (pink), France (light blue), and Japan (orange) since 1900.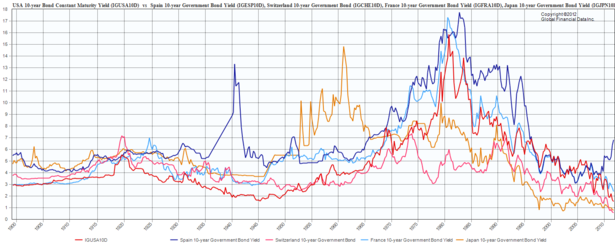 The psychological scars of the Great Recession are still with us four years on. Investors just want a mattress to stuff their cash into. Nowadays, we call mattresses "government bonds". Here's the basic idea: Countries that can print money should always give you your money back. They can't default, unless they want to. And with inflation at eighty-year lows, that's not much of a concern either.
What about Spain, the outlier here? Well, they don't have their own central bank. They have the ECB, which means they can't cushion the blow from their burst housing bubble with a cheaper currency. It also means they can fall victim to self-fulfilling fears of insolvency. In other words, a bank run, just with countries. So why can France borrow for so much less? They're stuck with the ECB too. And their fundamentals arguably aren't that much better than Spain's. Well, France is France and Spain isn't. (Breaking news, right?). Markets -- at least for now -- have decided that France is too important to the European project for Germany to ever let it get in trouble. Welcome to the idiosyncratic euro crisis.
Until and unless investors get back their "animal spirits," governments can expect to borrow for rock-bottom rates. It's almost like it'd be a good time to make investments we've been putting off for years. But don't count on Congress getting that memo from markets.