Penn State's Fine Is Less Than the NCAA Wants You to Think
This morning, the NCAA announced that Penn State would be forced to pay a $60 million fine as part of its punishment for its role in the Jerry Sandusky sex abuse scandal. According to the New York Times, the penalty is "equivalent to the annual average gross revenue of the football team" and "will be placed into an endowment for programs that work to prevent child sex abuse."
However, a quick check of the university's Department of Education filings shows that the penalty is less than the football team's most recent annual hauls. In fact, it's barely more than a yea'rs profits. Below, I've graphed out the team's last several years of reported revenues and earnings. In the last reported season, the team generated a profit of about $53.2 million on $72.7 million in total revenue. The year before it netted about $50.4 million off $70.2 million in revenue.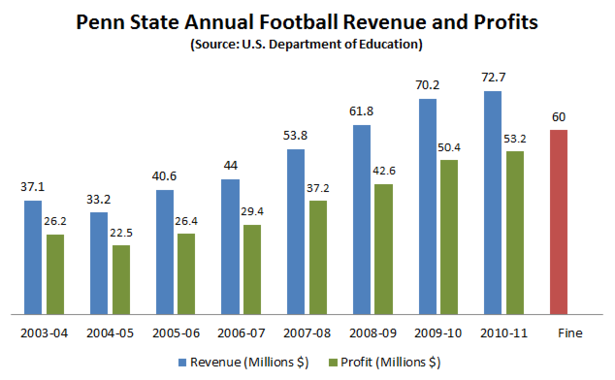 The university is facing additional punishments, including a four-year postseason ban and a cap on scholarships, that could both hinder it on the field and cost it financially down the line. But to put it in perspective, the fine itself is appears to be less than two years of the team's recent profits.
*UPDATE
The Big Ten announced that Penn State would not get a cut of the conference's bowl revenue for the extent of its postseason ban. According to the AP, that will cost the school an estimated $13 million.