Mitt Romney's Big Polish Idea: Let's Debase the Dollar!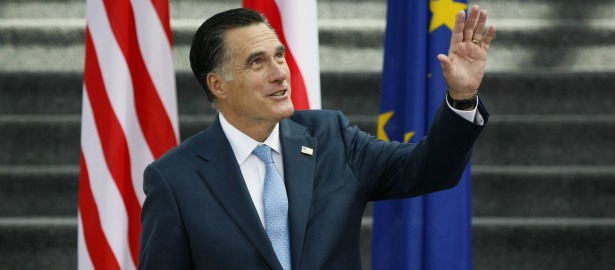 (Reuters)
Don't blink or you'll miss it.
Miss what? The rays of realism in Mitt Romney's economic rhetoric. With almost subliminal subtlety, Romney and his advisors have made the excellent point the past few weeks that
austerity won't work
without lower interest rates or a weaker currency. Two cheers for Romneynomics!
Romney's jaunt to Poland was the latest occasion for this break from conservative talking points. Kind of. His
economic message
was more or less what you would expect from this kind of trip. It amounted to: Don't forget Poland -- and don't forget what free markets can do for you! This wasn't just a case of Romney trying his hand at diplomacy. It was a matter of genuine belief. Thanks to its
constitutional limit
on government debt -- anything over 60 percent of GDP is prohibited -- Poland has become something of a conservative economic darling. And it's done this while still managing to be one of Europe's top growth stories. (Although it's almost
tripped over
that bar).
Well, it does if your currency depreciates by 50 percent. That's what happened to the Polish zloty during the height of the financial crisis. The chart below,
from the ECB
, shows the exchange rate between the zloty and euro the past five years.
A cheaper currency means more competitive exports. And sure enough,
rising exports
were a big part of how Poland weathered the crash.
Something tells me Romney won't be playing up this part of Poland's success story anytime soon. Remember, 
Paul Ryan
freaked about out about CURRENCY DEBASEMENT back in 2011 -- when, well, the currency was most definitely not debased. Such hysterics have become the 
de rigueur
Republican response to any hint of Fed easing the past few years.
Then again, maybe the Republicans wouldn't mind. They didn't when the
dollar dropped
 during the Bush years. With interest rates stuck at zero, a falling dollar is the only way Romney's plan to cut the deficit makes any sense. Not that it does much anyway; not when we can
borrow for free for 20 years
.
What makes even less sense is the Republicans ruling out everything -- bigger deficits, lower interest rates, a weaker currency -- that would get the economy moving again. Thank goodness they nominated someone as ideologically flexible as Mitt Romney.