Let's Call It a Housing Recovery
Stop me if you've heard this one before. Our long national housing bust might finally be over. It only took six years. Hopefully.
The latest glimmers of good news came from home builders.
Housing starts
hit an almost four-year high in June along with the
National Association of Home Builders
(NAHB) index showing its single biggest one month jump in a decade. The NAHB index measures whether home builders think single-family construction is getting better or worse -- anything over 50 means more builders than not think things are improving.
So, what was the NAHB reading -- the best since March of 2007 -- that has sparked something resembling optimism? Would you believe it if I told you it was still one of the lowest in 30 years? Well, it was. The chart below from
Calculated Risk
puts it in perspective. It compares the NAHB (red) with actual single-family housing starts (blue).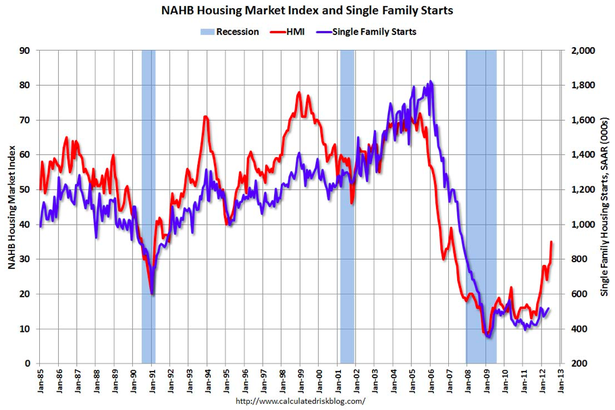 The good news is that single-family housing starts should pick up even more in the coming months, if the NAHB reading is any guide. But there's a big caveat. Builders have to be able to get credit. That's far from a given. The bad news is that despite this good new we're still in a deep, deep hole.
It's not hard to imagine a story where housing prices
bottom
, homebuilding creeps back to more normal levels, and all of that fuels purchases of big-ticket items like cars. But so far, too tight credit has stopped this virtuous circle from getting going. We're stuck in limbo. Not a recession, but not a recovery. At least not one that will bring down unemployment.
It's almost like our policymakers should give the economy one more big push.