If You Want to Understand Why Europe's Such a Mess, Look at Arizona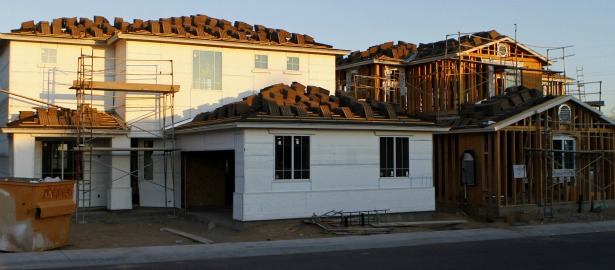 (Reuters)
Once upon a time, there was a place where there the gold wasn't just in them thar hills. Them thar hills were the gold! And not just the hills, even. All the land was precious as gemstones. Housing prices rocketed up, and so did jobs. But then, inevitably, the boom turned to bust, and the jobs disappeared.
Sounds like Arizona. Or Florida. Or Spain. So why are Arizona and Florida in much, much better shape than Spain is today, despite roughly equal housing bubbles, 
VoxEU
 asks? There are lots of reasons, and they all begin with "f" and end with "ederal government."
Let's start with the banks. Arizona and Florida don't have to bail out their own banks. Spain does. That's because the United States has the FDIC and Europe has nothing. This lack of a banking union doesn't just bankrupt countries -- though it certainly does do that -- but also sets back housing recoveries. Think about it this way. If you ran a Spanish bank sitting on top of a portfolio of toxic mortgages --
say, Bankia
-- and you knew the government couldn't afford to bail you out, what would you do? You'd pretend the losses didn't exist. In other words, not recognize how far housing prices need to fall. And that's precisely what Spain has done.
The chart below from VoxEU compares housing prices in Arizona, Florida and Spain since 2000. All three boomed. But only Arizona and Florida really went bust. That's not because Spanish prices have fallen enough -- S&P reckons they need to decline
another 25 percent
or so.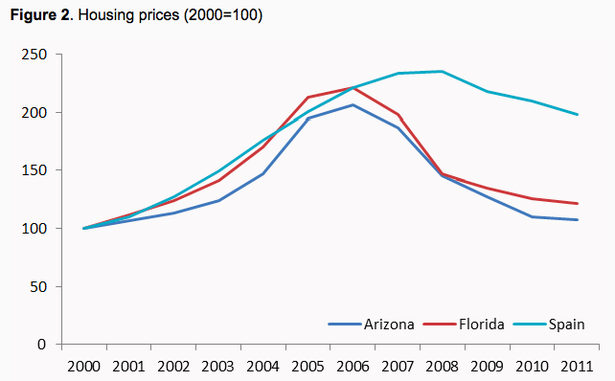 Eventually, the game of pretend has to end. That will be bad news for Spain's banks, but good news, eventually, for their construction sector. With housing prices still far too high, there's no incentive for builders to build. Contrast that to Arizona, where there are finally
signs of life
in the long-moribund housing sector.
Zombie banks don't eat people. They eat recoveries. Just ask Spain.