How Much Is Jeremy Lin Really Worth to an NBA Team?
In an age of globalized sports, the value of a Chinese star, such as the Knicks' departing point guard, could be huge. How huge? Let's do some math...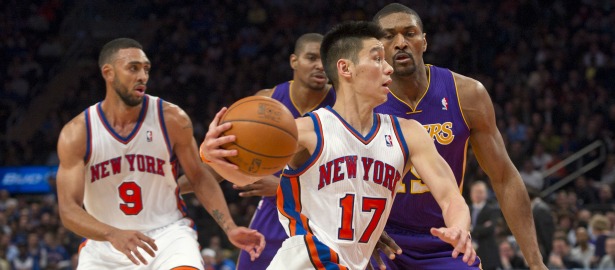 Reuters
So it looks like Jeremy Lin isn't worth a billion dollars after all.
That was the amount the Knicks were reportedly willing to pay to keep the point guard in Gotham. It turns out that figure was at least 40 times too high. Now they're balking at matching an offer sheet reportedly worth $28.8 million over four years.
As with anything New York and sports-related, reaction from Twitter was loud, negative, and occasionally witty. Bill Simmons quipped that "After winning over the Asian community with Jeremy Lin, the Knicks now expect to win over fat people with Ray Felton [Lin's rumored replacement at point guard.]" SBNation contributor @netw3rk morosely tweeted, "Whatever happens, I'm sure NY will make the worst decision." ESPN New York's Jared Zwerling called the possible decision to drop Lin "a business game-changer."
The latter attitude is a common one among business analysts who've commented on Jeremy Lin and the NBA. Back in the fever pitch of Linsanity, MSG--the owner of the Knicks--gained about $71 million in market capitalization in eight days. The biggest market in America would look an awful lot bigger if an Asian-American star could attract the Chinese market too. It wasn't just a consultant's dream. Lin's jersey was the second-best-selling on NBA.com and the NBA store on Fifth Avenue between April 2011 and April 2012. In other words, three month's sales of Lin's jersey beat everyone else's yearly sales. And then there were Lin's prodigious number of followers on Weibo, a Twitter-like site in China.
The Knicks could have looked at Yao Ming to get a sense of all this.
The NBA has already had two perfectly good examples of what an appealing Chinese basketball star can do to a team's finances. First, there was Houston, with the aforementioned Ming; and second, there was Milwaukee with the short-lived Yi Jialian experiment. So, does it live up to the hype? In other words, was that $71 added market capitalization for Lin a good reason to value him so highly -- if not for a billion dollars.
Based on past history, it's a bit hard to see such an outsized impact -- at least as a permanent matter. Forbes has done annual assessments of NBA franchise value, and comparing the data between Houston, Milwaukee, and the average NBA team is revealing about the potential business impact of the appeal of an overseas star.
While Yao Ming was playing, the Rockets gained slightly over 100 percent in value versus 63.32 percent for the average NBA team (excluding Houston). The fastest-growing franchise over this period? The Cavaliers, thanks to erstwhile hometown star and Mr. Global Icon himself, LeBron James. Superstars matter.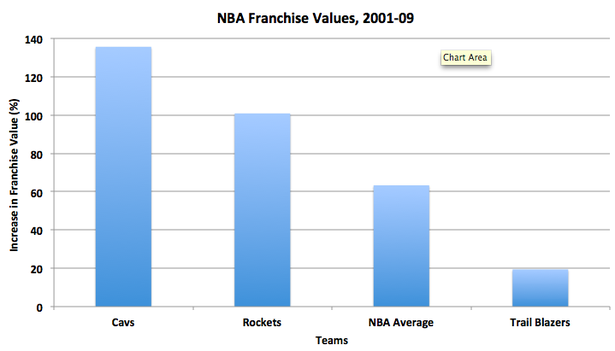 Growing 37 percent faster than the league average put an extra $89 million in the pockets of the Rockets' owners, at least on paper. If Lin were worth a similar premium for Knicks investors--we'll say 18.5 percent over the four years offered--he'd be worth $144.3 million. If he stuck around for eight years, and were worth the same premium as Yao, he'd return $288.6 million.
But once Yao retired, the effect wore off. Between 2001 and 2011, the Rockets' net worth grew 93.6%; the average NBA team grew by 88.2%. Let's say Lin's presence were worth 5% over a decade. In that event, he'd be worth $39.5 million for the Knicks, a considerably more modest sum.
These back-of-the-envelope calculations hinge on Jeremy Lin actually being a good basketball player, which Yao indisputably was, making one of the All-NBA teams on five separate occasions. But Yao's biggest asset -- his, um, size -- also made it hard for him to stay healthy. Lin, at a more normal-human size, shouldn't have the same biomechanical issues that plagued the 7'6" Yao. So perhaps Lin will be worth more both on and off the court than Yao Ming thanks to better longevity.
Nevertheless, this is the upside scenario. Don't forget the other hyped Chinese import in the past decade, Yi Jianlian. NBA officials expected a 200-million plus viewing TV audience for his first hardcourt meeting with Yao Ming. But there was a problem: Yi wasn't very good at basketball. He never lived up to his lofty draft status, and is out of the league now -- toiling in the NBA's developmental league five years after being drafted. While Yi was with his original NBA team, the Bucks actually grew slower about half a percentage point slower than the average team.
However, Jeremy Lin is likely already a better player than Yi. The latter never had a stretch of play as sweet as Lin's during Linsanity, when the point guard looked like the best avatar of Mike D'Antoni's helter-skelter offense since Steve Nash. And it's perhaps significant that the team most ardently after Lin is the Rockets, one of the teams that cut him during his time in the wilderness. If there were anyone predisposed to thinking Lin a fluke, it would be them. (Houston's GM, Daryl Morey, is the most famous statistically-inclined general manager in the NBA currently, so it's safe to assume Lin scores highly in the Rockets' proprietary stat system).
So, is Lin worth it? The answer is: Only if he's a good player--and even then, if his financial value is fleeting, not at a premium rate. Only your play pays the bills.
>