How Caterpillar Explains the World
Lesson 1: North America is carrying the world economy. Lesson 2: We're still crunched for energy.
Caterpillar builds machines for digging up the earth. When countries grow, they need more machines. When they stop growing, they need fewer. That's one reason why a company like Caterpillar, while perhaps not as sexy as Apple or Goldman Sachs, actually paints a better picture of the world economy than almost any other big corporation. So the company's announcement today that it's earnings rose 67 percent year over year in the second quarter has, predictably, been received as great news on Wall Street.
But breaking down Caterpillar's sales by geography, as I've done in the chart below, also tells us about the strange, precarious position that the world's in these days.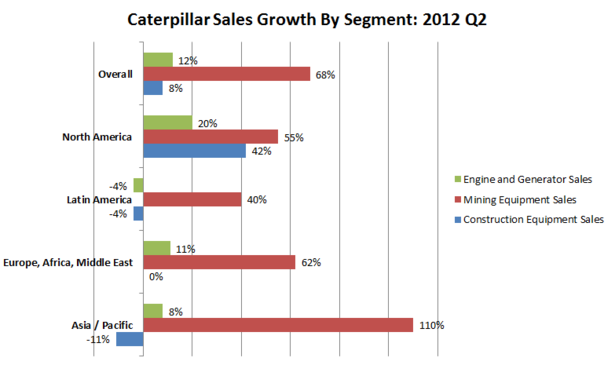 Here are the two lessons we can draw from these numbers. First: Right now, the globe really may well be riding on the back of America's limping economy. Second: There are still enough countries clamoring for resources like coal and oil that whatever growth we manage will be expensive to fuel.
Now here's how we get to those lessons. Notice, the U.S. is the only country where building equipment sales actually grew. That's because U.S. construction spending, while still well below its pre-recession peak, is back on the rise, and contractors are replacing old gear. Sales in China, meanwhile, were slow enough to eclipse gains in the rest of the Asia/Pacific region. Europe was flat, which sadly qualifies as a pleasant surprise. We're speeding up our building. The rest of the world, by and large, is not.
The picture with mining equipment couldn't be more different. Even discounting the profits Caterpillar added through a major corporate acquisition, its sales of drills, dump trucks and the like have still grown impressively world over, regardless of the local economic climate. Its sales of engines and generators, which are often deployed on oil rigs, have also grown world wide. It's a sign that, even with Europe in shambles and China faltering, companies still think energy and commodity prices will be high enough to merit the extra investments.
So that's the bad news tucked away inside today's good news.