Filthy Rich in 1955: How the Wealthiest Americans Lived 60 Years Ago
They forsook the town club scene, commuted to the suburbs, summered in pink shorts, and made do with but one or two servants.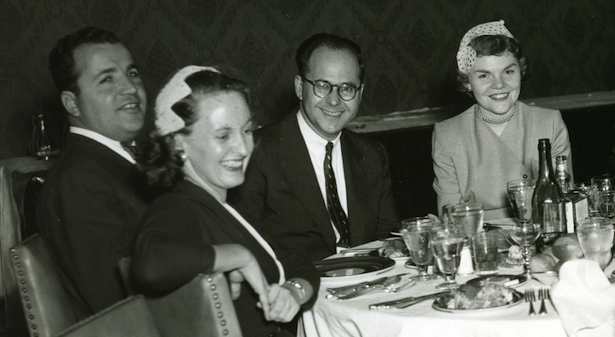 BM Global/Flickr
Fortune magazine observed in 1955 that "the American executive in his office is a familiar figure... typically, decisive, somewhat aloof, and generally regarded by his employees with a certain awe." But how did he live outside the office? The magazine determined to tell its readers. "There are in the U.S. approximately 30,000 executives, with incomes of $50,000 or more," the article noted. "These men sit on the top-most rungs of the business ladder either as managers or as owners of their own businesses. Obviously there is no 'average' executive among them (they are all singular men). But their lives do have certain common characteristics."
Too many interesting observations follow to note them all, especially as Americans continue thinking about subjects like income inequality, "the 1 percent," and a rich entrepreneur turned presidential candidate.
But here are a six of my favorite passages:
"If he is a top executive he lives on an economic scale not too different from that of the man on the next-lower income rung. He surrenders around 40 per cent of his salary to the Bureau of Internal Revenue (he may cough up as much as 75 per cent) but still manages to put a little of his income in stocks, bonds, life insurance. He owns two cars, and gets along with one or two servants. What time he has left from his work--on weekends and brief vacations--he spends exercising, preferably outdoors, and usually at golf."
"He spends almost no time on politics. He entertains often because he must (i.e., for business reasons or on account of his wife) and, under much the same compulsion, he attends cultural events. He does little reading outside of newspapers, newsmagazines, reports, and trade papers."
"He drinks, if he drinks at all, moderately and on a schedule. Alcoholism, it is clear, does not go with success and is to be found only among some executives' bored wives. Extramarital relations in the top American business world are not important enough to discuss."
"Today an executive, outside of Boston at least, may arrive at his office in tan shoes, sometimes in a tweed jacket with side vents. And he may well do his weekending in shorts--pink ones this year."
"Ceremony has all but vanished with the migration to the suburbs. Executives now use town clubs merely for lunching or having a fast drink at the end of the day before catching their commuting trains. The old, annual club dinner with its solemnities and reports, its printed menus, elaborate dishes, and long cigars, has deteriorated into a gobbling of commonplace steak by members numbed by martinis. The passing of formal club life has also meant the end of a good deal of stag conviviality. One Boston executive complains that he hasn't seen a poker game or crap game in the Union Club in ten years."
"One of the biggest yachts launched in the past five years is the ninety-six-foot Rhonda III, built and owned by Ingalls Shipbuilding Corp., of Birmingham, Alabama. The Rhonda III cost half a million dollars to build, and the annual bill for keeping a crew aboard her, stocking her, and fueling her runs to around $130,000. As Chairman Robert I. Ingalls Jr. says, only corporations today can own even so comparatively modest a craft. The specifications of the boat that interests the great majority of seagoing executives today are 'forty feet, four people, $40,000.' In this tidy vessel the businessman of 1955 is quite happily sea-borne."
The whole piece is worth a read and online here.