Empty Nest: Beijing's Olympic Stadium Is a Vacant 'Museum Piece'
The iconic Bird's Nest stadium has quickly turned into a costly relic.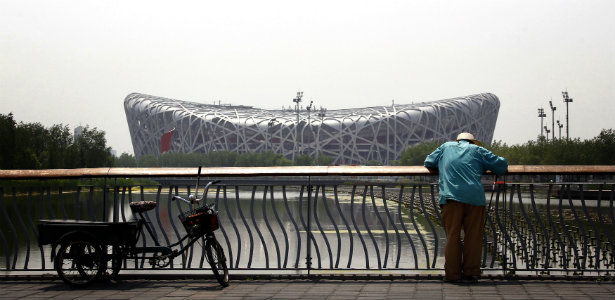 (Reuters)
During the 2008 Olympics, Beijing's National Stadium was China's pride, the 90,000-seat physical embodiment of the country's economic ascendance. "The stadium lives up to its aspiration as a global landmark," New York Times architecture critic Nicolai Ouroussoff wrote at the time. "Its elliptical latticework shell, which has earned it the nickname the Bird's Nest, has an intoxicating beauty that lingers in the imagination. Its allure is only likely to deepen once the enormous crowds disperse and the Olympic Games fade into memory."
Time has not, in fact, been so kind. These days, the Birds Nest is a mostly empty "museum piece," as one interviewee puts it in the rather startling Bloomberg video below. The stadium, which cost $480 million dollars to build and takes about $11 million each year to maintain, has no regular tenant. The nearby Olympic aquatics center has only been slightly more fortunate: it's been turned into a water park.
As Andrew Zimbalist wrote for The Atlantic last week, Olympic venues have a nasty history of turning into expensive white elephants once the games wrap up and the crowds go home. The Bird's Nest may turn out to be the saddest of these cautionary tales. As NPR recently reported, its operators have already tried their hand at a number of failed money-making schemes, including turning it into a snow park with man-made ski hills. Today, it's a Segway race track where tourists can pay $20 to zip around -- not exactly an Olympic sport.