Chronicles of Casino Capitalism: Bankruptcy Bonuses
It is impossible to know what to notice or be upset about any more. So I'll just follow a little thread I happen to be familiar with.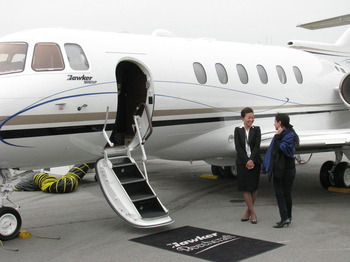 - As mentioned two days ago, the Hawker Beechcraft company, based in Wichita, has filed for bankruptcy and is loaded up with debt after its takeover by Goldman Sachs / Onex. Thematic picture: Hawker Beechcraft jet that I saw for sale in Hong Kong last year, just before a group of eager Chinese customers stepped on board.
- A Chinese firm, Superior Aircraft of Beijing, is applying to spend $1.79 billion to buy the company -- maker of Hawker jets and the familiar Beech Bonanza, Baron, and King Air airplanes.
- Former Beechcraft employees say that part of the deal may be shedding pension obligations to workers in Wichita and elsewhere, or fobbing them onto the government's Pension Benefits Guaranty Corporation.
- BUT FORTUNATELY the deal will apparently include $5.3 million in bonuses for nine Hawker Beechcraft executives. At least according to LeveragedLoan.com. Great.
As I have argued at full book length, China's ambitions in this field offer a revealing look into the nature, strengths, and weaknesses of its system. The same is unfortunately true of ours. Does this remind you of anything else you're hearing about in the news?