Another Solyndra in the Making?
Having already received $249 million in federal money, advanced battery maker A123 Systems has just five months of cash left to burn.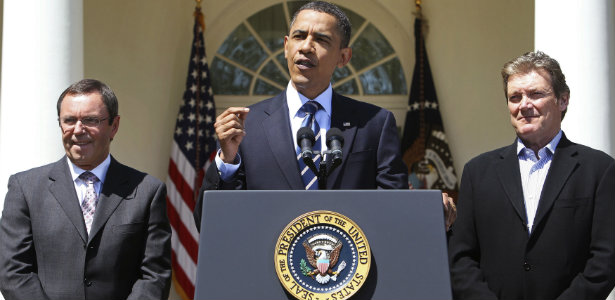 On Friday, advanced battery maker A123 Systems, the recipient of a $249 million federal stimulus grant, informed investors that it had just five months worth of cash left to fund itself. While it's a bit early to start administering last rites, the company's situation is looking pretty funereal. A123's share price is down to just about $1 from an all-time high of more than $25 in 2009. Management has plans to raise $39 million, in part by selling stock. But at least one analyst quoted by the Boston Globe believes they'll need an infusion of at least $400 million over the next 18-months.
And so it is possible, although not altogether guaranteed, that we are looking at yet one more Solyndra in the making. Just last month, another green tech firm that had benefited from the Obama administration's largesse, Abound Solar, declared bankruptcy after tapping $68 million worth of government-guaranteed credit. A123 could be a much more expensive bust. On top of its federal grant, it had also received $125 million in tax credits and incentives from the state of Michigan, where it built a high-tech battery plant.
A123 has made a few serious missteps. The company is spending $67 million to replace faulty batteries it shipped to electric car maker Fisker. It also may have wagered too heavily on the automotive industry. The electric vehicle market has grown slower than many predicted, which has left A123 scrambling to diversify into other product lines, such as batteries used in energy grids.
Is it possible to blame the stubbornly slow economy? Hard to say. Times are tough, and electric vehicles are still essentially a luxury product. But luxury consumers aren't the ones hurting these days, and car sales generally have been brisk.
I'm not going to rehash the arguments we've all heard a million times about whether the government should play venture capitalist. This certainly underscores the fact that those of us who believe the government has a place in supporting innovative, somewhat speculative industries need to have a high tolerance for risk -- more so perhaps than your average VC fund.
But it also reinforces a second, equally important point. We need to be honest about the purpose of these public investments in young private enterprises. They're bets on the future. But they are not a good way to jump-start a slow economy. Even in a best case scenario, the green tech industry wasn't ready to scale up and create significant job growth, something White House advisers were well aware of, according to Noam Scheiber's book The Escape Artists. Unfortunately, President Obama insisted on selling them as part of an employment package, a decision that may do as much long term harm to the idea of public-private cooperation as it did short-term good:
Energy was a particular obsession of the president-elect's, and therefore a particular source of frustration. Week after week, Romer would march in with an estimate of the jobs all the investments in clean energy would produce; week after week, Obama would send her back to check the numbers. "I don't get it," he'd say. "We make these large-scale investments in infrastructure. What do you mean there are no jobs?" But the numbers rarely budged .The U.S. clean energy industry was so microscopically small that even doubling or tripling the size of it, a major accomplishment that could take years, would produce an insignificant number of jobs relative to the size of the country's work force.
Of course, we're not even living in that best case scenario.  If A123 survives, it could well become the keystone of a new, domestic battery industry. But in the meantime, its Michigan factory currently employs about 780 workers, instead of the 3000 the Obama administration had promised. Let's just hope it lives to hire a few more.