A Graph of the Laziest Countries in the World (Hooray! We're Not #1)
Congratulations, Maltese women: You are the world's most physically inactive demographic! Take a bow. Better yet, take a walk.

From country-to-country, inactivity rises with age, is higher in women than in men, and rises in higher-income countries, according to a new study on idleness in The Lancet. Here's a map of the world's sloth, via The Economist. Countries in darker colors had greater recorded inactivity, defined as failing to reach 30 minutes of moderate activity a day.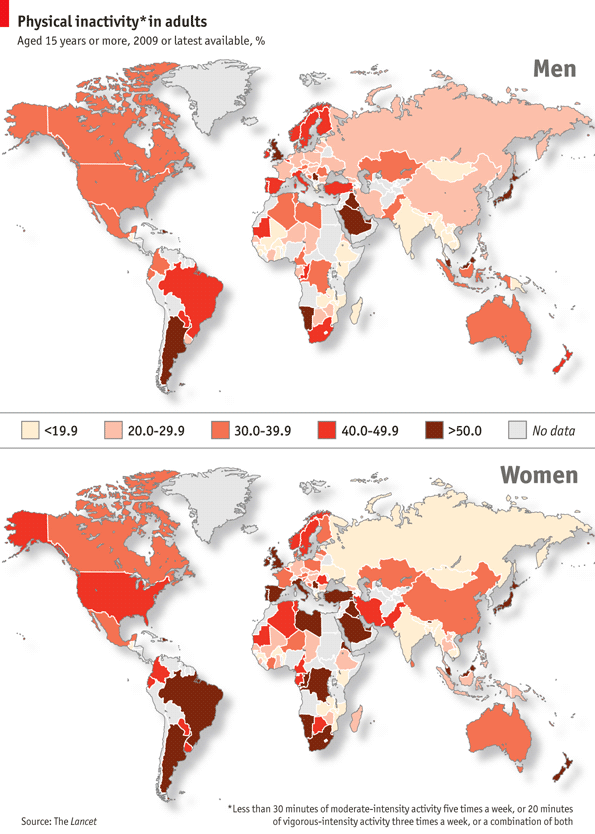 Inactivity might rise with income, but some of the world's most inactive groups are women in countries with barriers to female employment, such as Libya and Saudi Arabia. Among men, Great Britain and Japan are reportedly among the most slothful countries in the world, but Europe collectively reported walking more than any other group in the study.
What about America, the alleged king of couch potatoes? The survey found a surprising degree of bustle in the typical American's life. Six in ten Americans were deemed "active," compared with fewer than five in ten Brazilian men, four in ten Japanese, and three in ten Argentinians. We're still a far way from Benin, Bangladesh, Mozambique, and Mongolia, where more than 90 percent of men got at least 30 minutes of moderate exercise five days a week.