Your College Isn't as Great as You Think
Elite colleges -- they just ain't what they used to be. Or, more precisely, there are a lot more of them than there used to be, at least if you judge by Barron's Profiles of American Colleges,  the old war horse of higher ed rankings. The American Enterprise Institute did the math and found that the number of schools in the guide's "most competitive" tier has doubled since 1991, even though the total number of institutions in its rankings has actually fallen. The other relatively prestigious categories have also fattened up, while the number of "less" competitive and "non-competitive schools" has shrunk. The chart below summarizes their findings.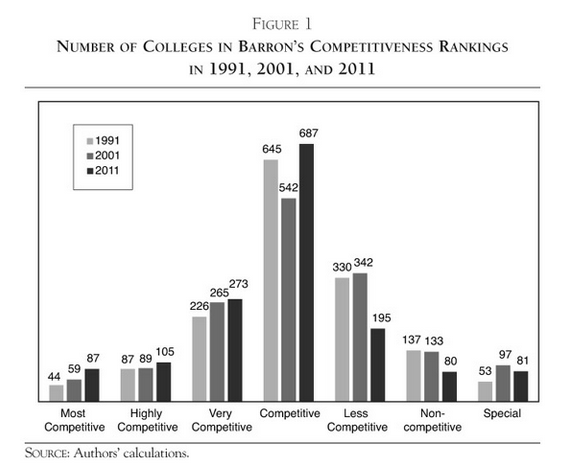 So why are so many more schools suddenly special? There are a few factors, but a lot of it has to do with Barron's methodology. The guide looks at the GPAs, SAT scores, and class rank of each college's incoming students, as well as the school's acceptance rate. Today, about a million more students enroll in four-year institutions than in 1991, both because the college-aged population has grown, and because a larger percentage of young people are choosing to pursue a degree. Meanwhile, the number of schools has stayed steady. So more kids are competing for fewer spots. Those students also tend to apply to more schools, which drives acceptance rates even lower. Barron's also hasn't adjusted their formula to account for high school grade inflation.
Thus, these schools have become more "competitive" whether or not they're offering a better quality education than in the past. It's yet one more reason to take college rankings with a grain of salt.