Workers of the World: Get Screwed
35 years of labor's declining fortunes, in one chart.
Here in the United States, we tend to view the rise of income inequality through the lens of domestic politics. We talk about things like falling tax rates for the wealthy, the decline of labor unions, and the unhinged rise of executive pay. It's important to remember, though, that in many ways we're dealing with a global phenomenon.

Labor's share of income in advanced countries -- the U.S., UK, France, Australia, the Netherlands, Sweden, Germany, Portugal, Italy, Greece, and Spain -- has been on the wane for more than 35 years, down about 7 percentage points from its peak, as shown in this chart from a new report by the McKinsey Global Institute.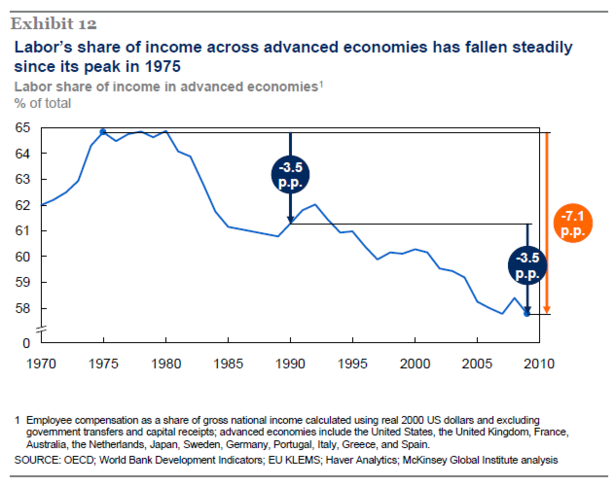 The workers of the world have been getting a raw deal. But why?

In part, we're talking about the age of globalization. But remember, some of the watershed moments in the development of free trade come late on this timeline. China didn't join the World Trade Organization until late 2001. The United States didn't enact NAFTA until 1994. And yet labor experienced some of its steepest declines in the 1980s.
We're also talking about the computer age, though, and that might be the most important story line of all. The ability to mechanize factory work has created a premium for skilled workers and cut down the value of raw labor. To put it bluntly, it's the victory of brains (and capital) over brawn.  In the United States, Japan, U.K., Germany, and Italy, capital stock -- that's the supply of computers, heavy machinery, and other equipment -- has risen from 2.1 times the size GDP in 1980 to 2.7 times GDP. In other words, companies are spending less on workers and more on machines.
All of this has created a brutal job market for low-skill workers, who at one time could have relied on a solid factory job to get them by. Another graph from McKinsey shows how across Europe, the distance between the college-educated and other workers has stayed steady in good times and bad since the turn of the millennium.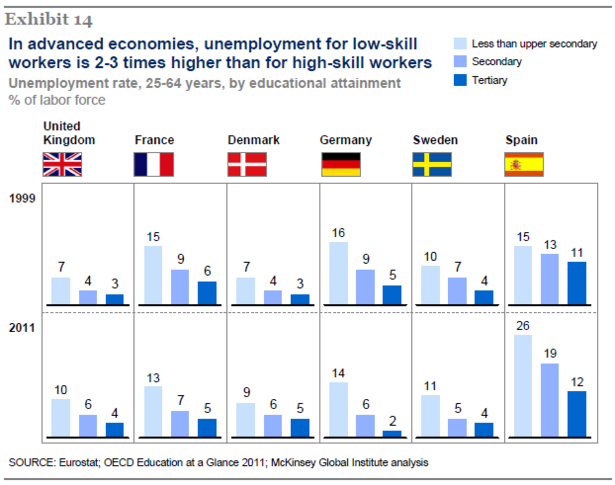 In the rich world, it's a very bad time to make a living with your hands, no matter which country you're in.