Why News Corp Should Break Up With Itself
Rupert Murdoch's News Corp is considering dividing into two companies -- one for its publishing business (including the Wall Street Journal, the Times of London, and HarperCollins) and one for its "entertainment" business (including cable programming and its film studios).
This sounds like fallout from the UK hacking scandal. Let me suggest that it's more about separating a high-flying entertainment business from a weaker publishing business that accounts for one-tenth of News Corp's profit and an even smaller share of its potential value.
Let's start with some simple numbers. Here's a picture of News Corp's year -- in revenue and profit, by division -- for the nine months ending March 31. Publishing is the second biggest bucket by revenue, but it's not a terribly profitable business.
The picture is even more striking when you pull the camera back 10 years. Here's a chart that traces publishing income (which I'll call News Corp) compared with Cable/TV/Film/Satellite income (which I'll call "Fox") going back to 2002. Some years ago, somebody called News Corp "a sports and entertainment company with a newspaper problem." You can see why.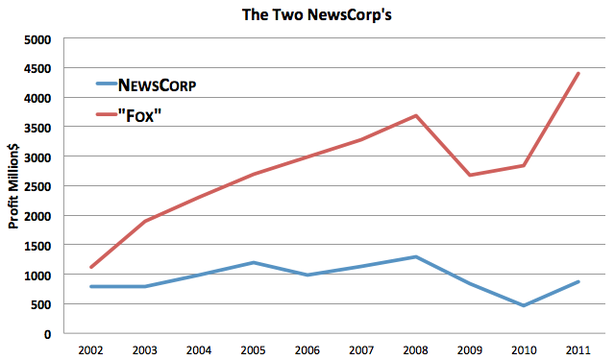 Beyond the issue of the publishing business flat-lining while the entertainment business takes off is the question,
what's a TV company doing with books and papers in the first place?
Similar to other media conglomerates like Time Warner, News Corp is an infinity buffet of media and entertainment, serving a range of high-margin and low-margin goods and services that sometimes have very little to do with each other. There are advantages to one company controlling content and distribution for the same medium -- i.e.: 20th Century Fox produces a TV show that's distributed on Fox -- because with scale you can make and show movies and television shows more profitably.
But you could argue that News Corp and other media conglomerates are spread too far across too many industries of such divergent fortunes and margins that their scale ironically obscures the true value of the company. Eighty percent of News Corp's profits come from cable network programming (incl.: Fox News, FX, STAR) and film (incl.: 20th Century Fox, Fox Searchlight). Separated from Murdoch's stable of newspapers, a new company could be valued significantly higher. It's less about locking out the newspaper scandal as unlocking value in the rest of the company