Why Is the United States Telling Immigrant Geniuses to Get Lost?
Are you an immigrant genius who wants to come flex your skills at a company here in the United States? Too bad. Go away! We don't want you.

The U.S. just hit its annual cap on visas for educated immigrants, a.k.a.: the H1-B, which means that for the rest of the year, we're in the business of telling smart people from around the world that we don't have a place for them.

Here's how this ridiculous system works: Starting each April, the federal government distributes a limited supply of 85,000 of H1-B visas. Companies go on a mad charge to snap up as many as they need, and those who come up short are left to scheme up other, roundabout ways of getting their workers into the country. It's a silly dance we do each year, when instead we could just welcome more smart, skilled professionals to come and work here.
To get a visual sense of just how rapidly demand for these visas outstrips supply, here's a graph from the Brookings Institute. Each year is marked off starting in April. The blue represents the amount of time before companies hit the cap. The hotter the economy, the faster the visas usually go. This year, it took just ten weeks, compared to 33 in 2011.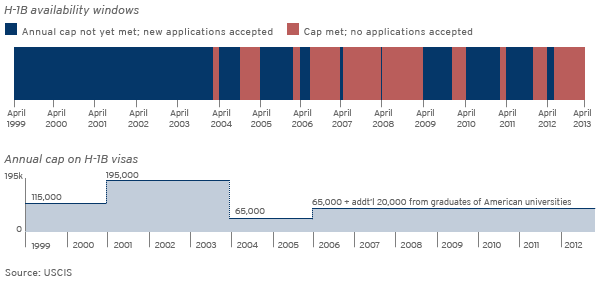 Here's another sad aspect of this whole exercise: note from the bottom chart that 20,000 of these visas go to individuals who earned a graduate degree at an American University. These are people we educated. We should be handing them green cards, not keeping them around on a temporary basis while shutting out other talented immigrants.