What Does the Stock Market Think of Today's Health Care Ruling?
So thanks to Chief Justice John Roberts' unexpected swing vote, Americans still have to buy health insurance or pay a tax. Meanwhile, insurers won't be allowed to turn patients away if they have a pre-existing condition. What do the markets think of this?
Great news for hospitals. Bad news for insurers.
First, here's a graph tracking stock prices for a collection of for-profit hospital chains, which are theoretically about to get a whole bunch of newly insured patients, and will no longer have to worry about the uninsured and sick showing up in the emergency room for free care.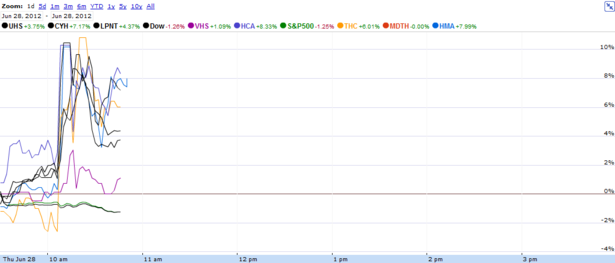 That's a lot of spiking right around 10:08 AM, right when we learned the the mandate would be upheld as a tax. Meanwhile, those two lines trending negative are the rest of the stock market. The hospitals are outperforming the market today.
Now for the insurers, which, are busy taking a dip right now.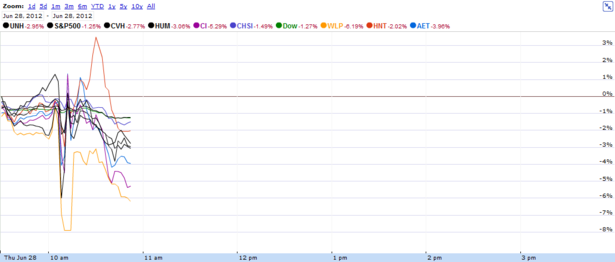 The stocks started the morning slightly down, bounced around right when the decision came out, and now are heading further south. Perhaps investors aren't so certain the mandate will make up for the lost profits from covering sick patients. They could be worried that the tax penalty won't be strong enough to convince people to buy care before they get ill. Or maybe the fact that they'll still be required to spend 80 cents of each premium dollar paying for patient care is scaring off the market.
What's fascinating about these reactions is that they couldn't be priced in before the court rendered its decision. The court was leak-proof as ever, and Intrade was collectively convinced the mandate was getting struck down. This is a pure off-the-cuff reaction to the year's biggest ruling.