What Country Has the Worst Youth Unemployment? Not Spain or Greece ...
The big loser is Turkey.
Despite the horror stories you may have heard about
over half
of Greek and Spanish youths being out of work, the reality is a bit more complicated. The following chart courtesy of the OECD (via
Alan Beattie
of the
Financial Times
) gives us a more accurate picture of youth joblessness. Instead of counting everyone under 25 who isn't working as unemployed, it only counts everyone under 25 who isn't working and isn't in schol or a training program as unemployed. Things are still bad, but not nearly as bad as the headlines suggest.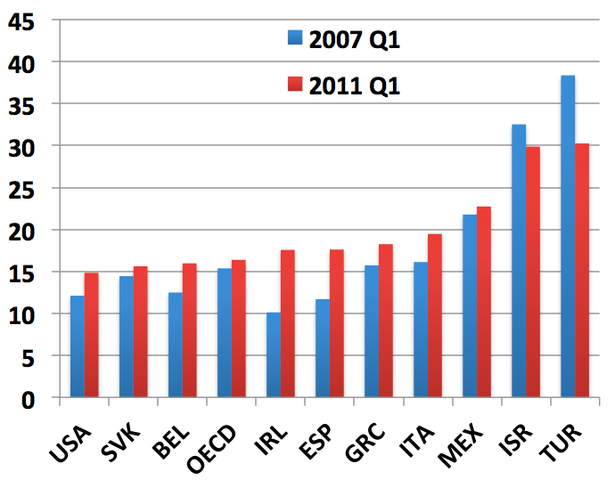 The plight of the current generation of young Turks has a distinctly
European feel
. Overeducated and underemployed, Turkish youth struggle to find good work -- made all the more difficult by inflexible labor markets that harshly disadvantage them. Hence, a world of perpetual limbo and temporary employment.
I'm honestly not sure what's going on with the numbers for Israel -- does it include the West Bank, or is it a story about the ultra-Orthodox? -- so if anyone has a theory, chime in below.
But these less eye-popping numbers don't mean that there isn't an epidemic of youth unemployment in southern Europe. There is. Italy, Greece, Spain and Ireland all rank among the seven worst developed nations when it comes to eating their young -- and all of them are getting worse. This is what a continent self-immolating looks like.
There's a bigger point. Ireland, with its famously flexible labor markets, hasn't done much better than its Mediterranean neighbors, with their famously inflexible labor markets. This is a euro crisis, not a structural crisis. That's not to say that Spain and Italy couldn't use so-called structural reforms in the long-run, but rather that counting on such reforms to restore growth in the short run is misguided. Europe's periphery needs more demand, full stop.
Somebody tell the ECB that.
---------------------------------------------
* Mystery solved.
Alan Beattie
points out that this dataset probably treats Israeli youths fulfilling their mandatory three-year army stints as "unemployed".