Was Obama's Recovery the Worst in Modern Times, or the Best in 20 Years?
To illustrate exactly how near to high heaven the Obama recovery stinks, Mitt Romney put this graph in his official Plan for Jobs and Economic Growth. It shows the Obama recovery losing nearly 1 million jobs in the 24 months after the end of the recession, clearly the worst in modern history.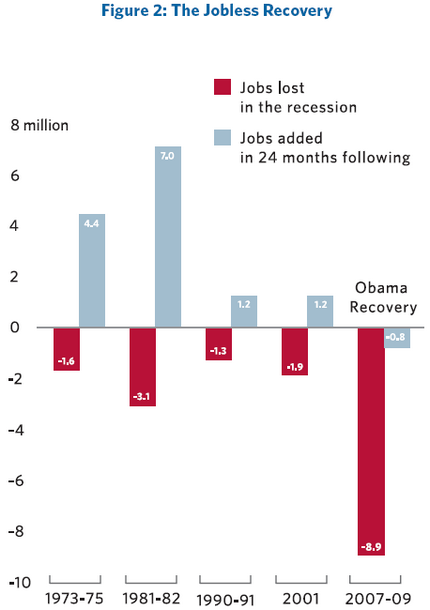 But here is the same graph, via Josh Biven at the left-leaning Economic Policy Institute, adjusted for private sector jobs only. Note the subtle change in the three blue bars to the right. Obama's recovery is suddenly the best in 20+ years. The key distinction between Romney's graph and EPI's graph is the public sector, which withered under Obama despite the stimulus.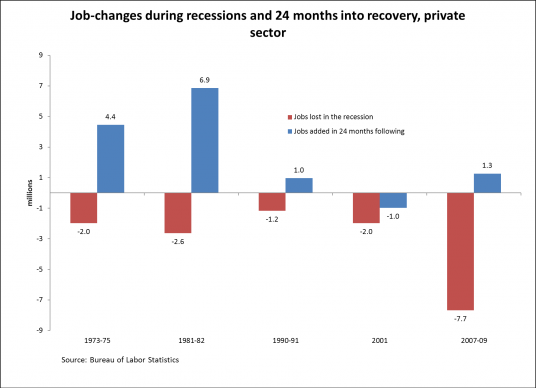 This recovery stinks, okay? No debate there. But if Romney's contention is that its stinking is qualitatively different from the stinking of the last two recoveries, this particular statistic doesn't make his case.
The economy created more private sector jobs after the recession than we did in 1991 or 2011. Yes, this is like bragging about the heat coming off a warm ice cube. Yes, we fell further and had more room to catch up. But Obama's recovery doesn't look like either of the Bush recoveries because Obama oversaw total decline in government employment and Bush I and II oversaw a growing public sector.
Don't expect Romney to make that point. Following political campaigns to learn about economics is like following a magician to learn about physics.