The Wine Market Sobers Up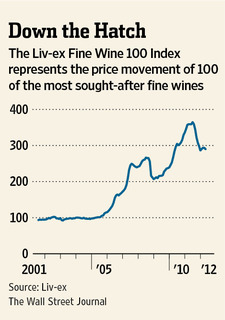 These are lush years for luxury industries, like $5,000 handbags and pricey art. But one billionaire friendly market appears to have lost its legs: fine wine. That could be a sign of trouble for all of us, even you've never paid more than $9.99 for a bottle of Cabernet.
Auction prices for high-end wines have taken a 23 percent dip since peaking a year ago, according to the Liv-ex Fine Wine 100 Index, which tracks a collection of the the world's most sought after bottles. The market had previously been on a tear, rising 264 percent since December 2003. And according to today's Wall Street Journal, recent pre-sales from top vineyards have been noticeably weak.
Expensive wines and other luxury goods are a barometer for the health of the global elite. Given that those 1 percenters have been the main beneficiaries of recent economic growth, a pullback in their spending could signal a wider contraction.
So are the wine market's troubles yet another sign of a foundering world economy? Possibly.
Much of the fine wine market's recent growth has been driven by China, where overall wine consumption has more than doubled since 2005, making it the globe's fifth largest consumer by some estimates. Expensive Bordeaux has become one of the ultimate status symbols among the country's newly wealthy business and political leaders, which has helped transform Hong Kong into one of the capitals of the wine trade and driven the cost of prized brands, such as Cheateau Lafite Rothschild, as high as high $100,000, according to Reuters. The recent slackening of prices could be yet another informal sign that China's growth engine is cooling down, which would in turn depress the global economy.
Thankfully, the wine market's sour turn could also just be a sign of changing tastes. Eighty-six of the 100 bottles Liv-ex tracks are Bordeaux, the traditional king of fine wine. But as the Financial Times wrote in May, recent auctions suggest that Hong Kong buyers, perhaps spurred by the rampant counterfeiting of top Bordeaux, are branching out to wines from other regions, especially Burgundy labels such as Domaine de la Romanee-Conti. As ArtInfo succinctly put it, "Lafite is out, Conti is in."
In any event, it's one more lesson: As goes China, so goes the markets. Including those for ludicrously expensive French wine.