The U.S. Oil Boom: Partying Like It's 1998
The Energy Department is out with a new report on America's booming oil production, and it's something to behold. Thanks to new drilling in North Dakota, Texas and the Gulf of Mexico, the United States is now pumping oil more than 6 million barrels a day of crude, up roughly a tenth since the middle of last year, and the highest volume the country has managed since 1998. Not since Bill Clinton was busy fending off impeachment charges have we been able to extract oil at this pace. Here's the EIA's chart: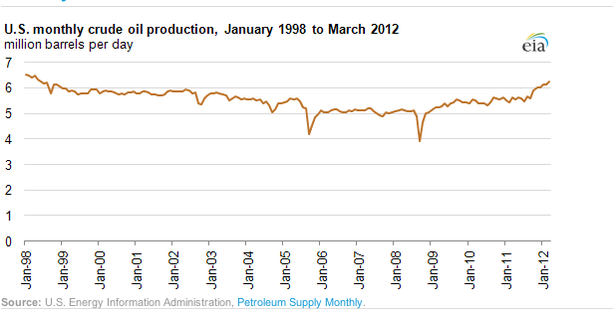 The oil boom has been driven primarily by two factors: First, companies have taken advantage of new drilling techniques that let them tap unconventional crude resources, such as the shale deposits in Texas and North Dakota. Second, high global prices have made those extraction methods economical. Even with oil tumbling these days, most people believe that companies can still turn a profit drilling as long as it sells for at least $50 a barrel. Unless something drastic happens in the market, we should expect this growth to continue.
For the sake of not sounding like a Pollyanna, though, here's something to always remember: we still import about 9 million barrels of oil a day. That's a hole we likely can't drill our way out of.