The Rich Know How to Buy Happiness (Do You?)
In the modern $1.4-trillion luxury economy, bling is out, and high-priced adventures are in.
So says a new report from the consultants at BCG, which explores the lifestyle habits of the world's wealthy based on interviews with roughly 1,000 affluent individuals. Cartier jewelry, Hermes handbags, and Tourneau watches are being eclipsed by exclusive getaways to the Maldives and helicopter skiing vacations in Alaska (which, in case you're interested, you can book for about $5,750-a-person, all inclusive). Spending on those sorts of mind-bendingly expensive experiences now accounts for more than half of the luxury market and is growing more than 50 percent faster than sales of luxury goods.
For those of us not in the business of selling lifestyle brands to the world's ultra-rich, there's still a lot to digest here. First and foremost: consider the total dollar value we're talking about -- $1.4 trillion. That's a shade higher than Canada's entire GDP, and it's only poised to grow as the developing world's wealth expands.

BCG breaks that giant body of spending into three categories: personal luxury goods (think fragrances and clothing), cars, and experiences (such as high-priced vacations). The graph below illustrates the dimensions of all that spending across the globe. Each region is divided into a column. The width tells you how much of the world's luxury market the region claims, the colored bars break down how the region's wealthy spend. The United States and China, it appear, have a particular weakness for high-performance cars.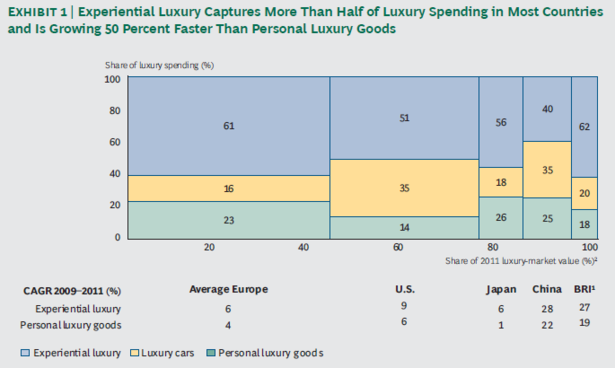 But beyond its sheer scope, this spending tells us something else about today's rich: they may actually be learning to buy happiness. Psychology tells us that purchasing experiences can actually make us
more content
. In general, it's better to buy up lots of little experiences -- going to a series of concerts, or taking regular classes -- than pouring our money into one gigantic splurge. But by shifting their spending away from watches and perfume, the rich may have finally figured out a way to turn their money into peace of mind.