The One Thing For-Profit Colleges Do Right
The for-profit college industry has long list of failings. The schools are expensive. They educate about a tenth of all undergraduates, but account for almost half of all student loan defaults. Their alums are more likely to end up unemployed than peers who attend nonprofit schools and, if they find a job, may well earn less.
But for all its warts, the for-profit sector does get a few things right. Chief among them: their graduation rates for two-year programs. About 60 percent of students at for-profit schools earn their associate's degree or professional certificate within three years of starting their education. At community colleges, just about one fifth of attendees graduate on time. The graph below shows the results for the entering classes of 2000 and 2007, based on data from the National Center for Education Statistics.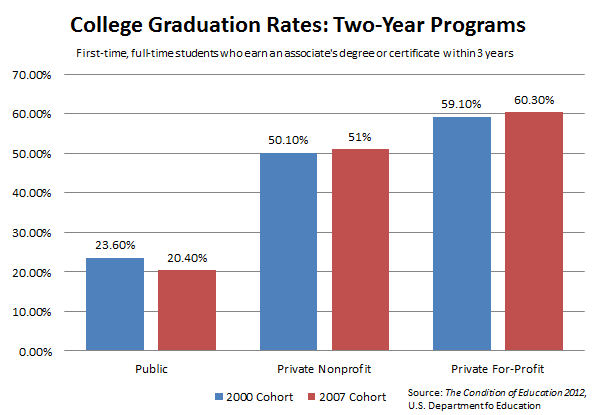 America's dreadful graduation rates are one of the most dire issues facing its higher
education system
. The dropout problem is particularly serious among two-year students, who tend to be the least academically prepared and most financially strapped. And so the for-profit sector's relative success with them shouldn't be taken lightly.*
That said, the statistics need a few qualifications. First: the completion rate at community colleges might not be as bad as it seems. Because the government only includes first-time, full-time students towards a school's graduation tally, transfer students are treated as dropouts. That includes students who leave their community college to seek a bachelor's degree. If those transfers are included, public two-year schools have a success rate closer to 40 percent, according to the
American Association Community Colleges
. But even if you assume those calculations are correct, that only narrows the gap to about 20 percent.
Jose Cruz, a vice president for higher-ed policy at the Education Trust, explained to me that for-profits award a relatively large number of certificates, which require less than two years to complete and help boost their graduation figures. Meanwhile, their students are also more likely to attend full time than at community colleges, which makes them significantly more likely to finish their degrees.
Step back from the nuances, though, and the fact remains: The for-profit industry is doing a better job than our public institutions at getting some of the hardest-to-educate students to complete their studies. It may simply be that students going deep into debt for their chance at a degree are more likely to finish school. It might be that the institutions themselves really do offer better support and resources. It could be any number of factors, frankly, and its worth understanding them to the fullest extent possible. As institutions, they may have deep flaws. But that doesn't mean for-profit schools have nothing to teach.
____________________________________
*It's worth noting here that, when it comes to bachelor's degrees, for-profits have a truly horrible track record, graduating just 28 percent of students on time, versus 56 percent at public colleges.