The Great Recession Proves the Importance of Education, Part 729
Stay in school, kids.
If the Great Recession has taught us anything -- besides the fact that housing prices do not actually always go up -- it's the value of education. The bad economy has been bad for everybody, but it's been especially bad for people without a college degree.
The chart below takes data on unemployment among recent high school graduates from a report produced by the
John J. Heldrich Center for Workforce Development
at Rutgers University (via
Catherine Rampell
of the
New York Times
). It shows what percentage of young high school graduates who aren't full-time college students are either working full-time, unemployed and looking for a job, or unemployed and discouraged.
The blue bars show the numbers for students who graduated right before the recession hit, and the red bars show for students who did so right after. It's an ugly picture for both.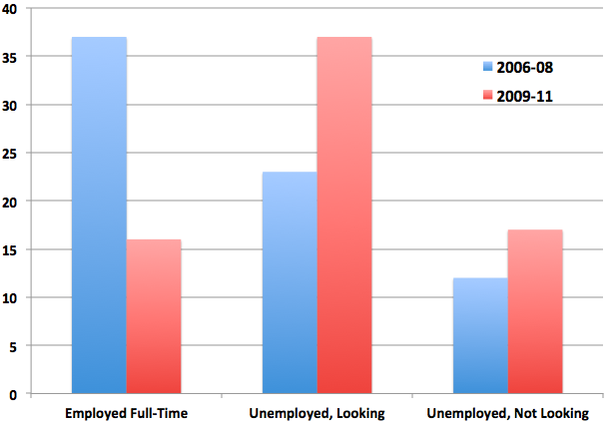 There's no good time to graduate from high school looking for a job. But there's no worse time than in the middle of a recession. Only 16 percent of people unlucky enough to finish high school since 2009 have been able to find full-time work today. The same figure is 37 percent for people who graduated before 2009.
If there's any good news here, it's that young high school grads recognize that they need more skills. Fully 72 percent of them have thought about either going back to school or to a jobs-training program.