The Good News About the Looming Global Meltdown? Cheap Oil!
The global economy may be stalling out like a broken down Volkswagen bus, but look on the bright side: Oil prices are plunging.
With Europe in disarray and China's growth slowing, traders seem to have set aside their concerns about the West's tensions with Iran and started worrying that the world simply won't need as much oil in the near future. Shown in tan below, the cost of Brent crude, which is used as a benchmark to price most oil on the world market, is down 18 percent since May 1. The cost of West Texas Intermediate, the major U.S. variety shown in blue, is down 22 percent.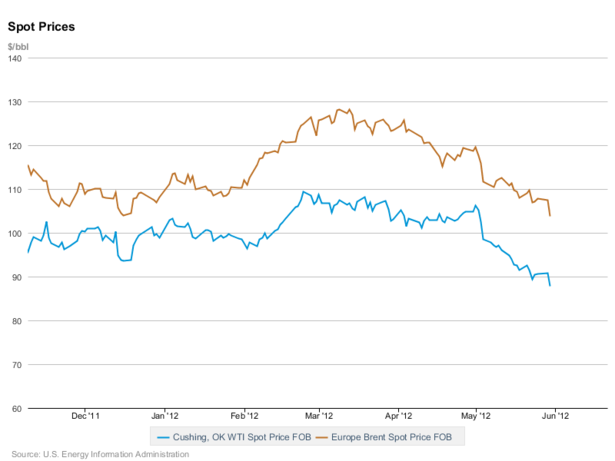 Some market pros believe this is only the beginning of oil's slide. Traders and analysts who rely on historical statistics to forecast the direction of prices told the Wall Street Journal that the market appeared to be in a "near freefall" after oil's value dropped on 17 of May's 22 trading days. The last time that happened was January 1997, when crude began a 2-year slump. One analyst told the paper that if American oil prices fall below $80 -- they're currently at about $83 -- it could be the beginning of an "unraveling" down to $45 a barrel.
A great prospect for American drivers and businesses is bad news for North Dakota and Texas. As shown on the the map below, courtesy of The Hamilton Project, those two states have been the main U.S. beneficiaries of the global run-up in crude prices, thanks to drilling in their large shale deposits (the graph also includes jobs from natural gas extraction -- hence why Pennsylvania is shaded purple). Companies can turn a profit on North Dakota's oil as long as prices stay above $50 a barrel, but a drop that takes them any lower could spell trouble for production. Even silver linings have dark spots.