Norway's Housing Bubble Makes Ours Look Almost Cute by Comparison
Everything is a bubble nowadays. Even how many words a picture is worth. Take a look at this chart from the
San Francisco Fed
comparing housing prices in the U.S. and Norway over the past century.
This picture is worth approximately eleventy billion words.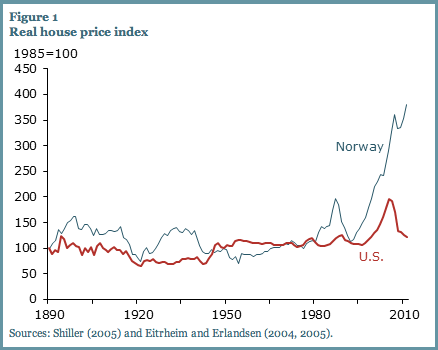 (Note: Housing prices are inflation-adjusted and indexed to 100 from their 1985 levels).
Norway has actually has had two housing bubbles the past two decades. The first looks relatively puny, but that's only because the second has been so mammoth. Norway's late-1980s bubble saw prices double in the span of a few years -- roughly the same size as our own burst bubble. But that looks downright Lilliputian compared to what's happened in Norway the past 15 years: Housing has quadrupled. And that's after inflation.
Is this time different? Haha, of course not. It never is.
Two stories explain Norway's runaway housing prices. The first is the country's safe haven status. Foreign capital pours into Norway during uncertain economic times -- which pretty much describes the entire past five years -- because it controls its own currency and its oil-based economic fundamentals are strong. That sounds great, but it's not so great if it makes their currency so expensive that exports become uncompetitive. And that creates a catch-22 for Norway's central bank. If they raise interest rates, even more foreign money will pour in -- higher interest rates would be quite enticing in a world with precious little yield -- and cripple their non-oil export economy. So Norway has kept interest rates low -- and that's helped push housing prices into the stratosphere.
Norway's other problem is that it's like California. There's only so many places you can build houses in Norway. Constrained supply is the other half of the recent rapid run-up in prices -- which deflates a bit of the concern over bubbly prices. But only a bit.
None of this means that Norwegian housing will come crashing down anytime soon. Prices can keep defying gravity as long as foreign investors want to park their money in Norway. Still, the 70 percent of Norwegians who expect housing prices to keep gaining might be in for a nasty surprise sooner rather than later.
What goes up usually comes down.