Maybe the Private Sector IS Doing Fine
Joe Weisenthal of Business Insider has assembled a 24-slide show to illustrate what President Obama meant when he infamously said the private sector is "doing fine." Below are the three key graphs. They don't change the fact that, obviously, the private sector has a ways to go before its recovery is complete. But they're powerful enough to make me wonder: What if Obama, rather than just try to walk back his unfortunate choice of words, trotted out some visual aids and spent 60 seconds explaining exactly what he meant? 'Professorial' can be a feature, not a bug.
The first graph illustrates that, since the end of Obama's first year in office, private sector employment has indeed recovered steadily and is now back to where it was when he took office--around 111 million jobs.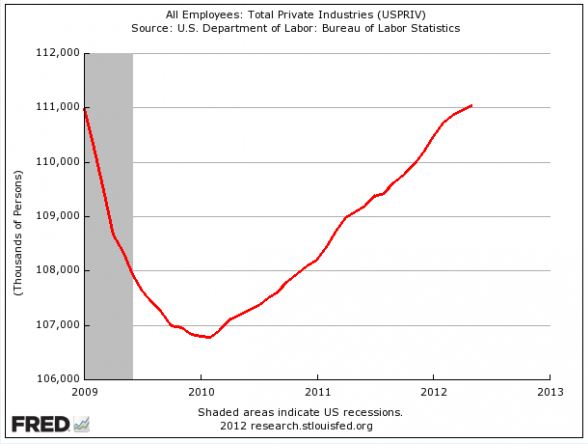 Unfortunately, the growth in private sector employment has been counteracted by a drop in public sector employment. This is the graph for state and local government jobs: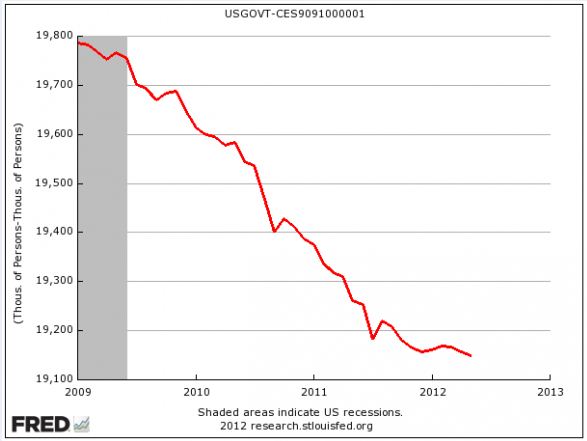 The final graph adds federal jobs to state and local jobs to get the number for total public sector employment. (Presumably that spike mainly reflects hiring for the census.)