How Wal-Mart Is Making the World More Feminist
Its critics complain that the company imposes contested notions of progress on the communities where it operates. That can be a bad thing. Is it always?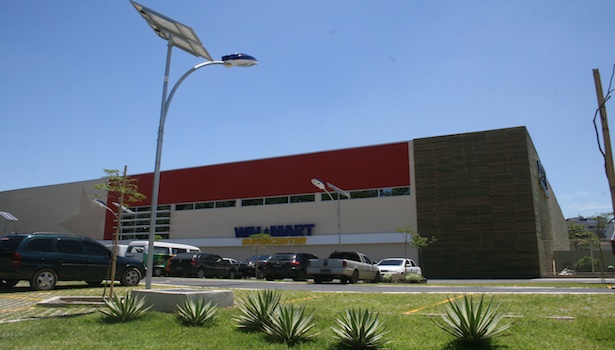 Wal-Mart
When fielding questions, C. Douglas McMillon, the CEO of Wal-Mart International, often conveys the point he wants to make via anecdote. After listening to several of them Thursday, my ever-observant colleague James Fallows noticed something. Whether a story took place in Brazil or India or Mexico, the Wal-Mart employee or supplier at its center always seemed to be a woman.
But why?
In recent years, gender has been a fraught subject at Wal-Mart, where some employees have alleged past discrimination that is still the subject of litigation. Whether or not the company is guilty of failing to equitably promote and pay women in the past, the campaign it subsequently launched to address women's issues and shore up its public image is tremendously consequential - given the company's reach, it may end up being among the biggest feminist triumphs that private industry has ever spurred, though that presumes a measure of success that isn't certain.

Notes from the Aspen Ideas Festival --
See full coverage
The Los Angeles Times reported on the details in September: "The company said that over the next five years it will source $20 billion from women-owned businesses in the U.S. and double its sourcing from female suppliers internationally. It also will offer training, market access and career opportunities to 60,000 women working in factories to help them develop the skills they need to become more active decision-makers in their jobs and for their families. Wal-Mart said it will help 200,000 women from low-income households gain job skills and access higher education; retail training programs also would help 200,000 women internationally," the newspaper reported.
In addition, "the company pledged to work with major professional service firms and merchandise suppliers with more than $1 billion in sales to increase female and minority representation on Wal-Mart accounts. Wal-Mart said it would support the programs with more than $100 million in grants; funding will come from the Wal-Mart Foundation and donations from its international businesses. It also established country-specific goals in markets where it operates; its Brazil division, for example, is hiring female construction workers to help build its stores."
On Thursday at the Aspen Ideas Festival, McMillion characterized his employer's ongoing efforts as follows:


We know that women are disproportionately impoverished... As entrepreneurs they have a hard time getting access to capital. We know what women spend money on is typically their children, education and health care, which is different than what guys may spend money on. That matters. I was at a meeting a few months ago where someone called investment in women's empowerment a global stimulus package. There's some truth in that. And so we've made some commitments about how we source goods, what we expect from service providers as far as female representation, we've made a commitment to train 200,000 women to enter the workforce in retail.

And we believe that's a good investment.

This is fascinating partly because Wal-Mart is so often criticized for changing the culture of the American communities where it operates as an unintended consequence of its profit-seeking. Its business model is indisputably disruptive. Does its supply chain innovations and low prices leave the communities it serves better off? I haven't studied the matter enough to offer any special insight, save that there are winners and losers everywhere. But the debate over the costs of the changes a Wal-Mart location brings is definitely present as it expands in foreign markets.
And this particular change - empowering women in foreign countries - is one Americans are inclined to celebrate. Training, employing and buying goods especially from women in countries where they're historically denied opportunities is nevertheless a deliberate and radical attempt to subvert local traditions.
It just happens to be a sort of "forced change" that we think is necessary. Americans regard the particular gender traditions in some foreign countries as retrograde and incompatible with our notions of equality.
The potential shift in local norms that big business can spur is huge.
Wal-Mart has always been a company that promotes from within. That culture, paired with an aggressive embrace of very American notions of gender diversity, would be of consequence even in this country, where an eighth of retail employees works for the company. Its market penetration is less overwhelming abroad. Still, the export of corporate diversity and its feminist elements will change the opportunities of countless women, especially if foreign employers copy the policies.
The notion of Wal-Mart as a radically feminist company is almost comical, because it certainly isn't prone to extreme politics of any variety by American standards. It is nevertheless one of many U.S. corporations that spreads our norms in places where they are anything but normal, for better and worse. The debate over whether the company is an overall boon or bane to countries where it operates is sure to continue, and its effect in any one area can hardly offer an overall answer. But I suspect a lot of people who criticize the company, precisely because it imposes its notion of progress on the communities where it operates, are going to celebrate this initiative.
They share this particular contested notion of progress.
Most Americans do.