How the Washington Redskins Explain the Myth of U.S. Industrial Policy
Nobody really likes a free market, especially when it comes to sports teams.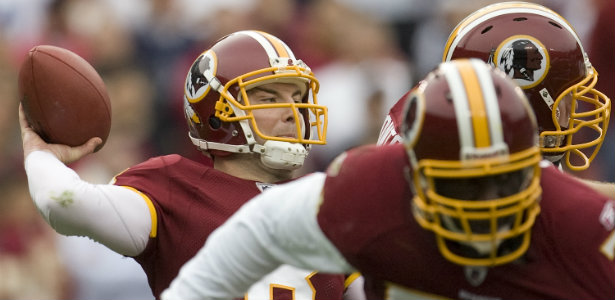 (Reuters)
The Washington Redskins may not have been the most threatening presence on the football field in recent years, but they are unquestionably fierce when it comes to government lobbying. Last week, after flirting with a move north to the District of Columbia or Maryland, the team announced that they would keep their headquarters and training facilities in Ashburn, Virginia, and relocate their summer training camp down to the city of Richmond. For this privilege, the commonwealth is kicking in $6 million dollars towards an overhaul of the franchise's home base, known as Redskins Park.
Compared to the outrageous sums cities and states regularly pay to keep sports teams in town, this deal is pretty tiny. It's nothing but an eye drop versus the $498 million the Minnesota Vikings extracted from their state's taxpayers in May to build a new stadium. But it does illustrate something about the way government constantly picks winners and losers in America's economy.
Earlier this year, the public policy world returned to the perennial debate about whether the U.S. should do anything to encourage more manufacturing here at home, or, as economists put it, "engage in industrial policy." Industrial policy boils down to the government choosing favorite sectors of the economy, then doing what it takes to support them. Even simpler: It's picking winners and losers. Mainstream U.S. economists generally aren't big fans of industrial policy, though a few outspoken voices are.
Here's the thing, though: we already have an industrial policy -- it's just involves 50 uncoordinated states fending for themselves. Governors, even Republicans like Virginia's Bob McDonnell, love using economic incentives to attract businesses they think might add jobs or burnish the image of their state. And so they compete ruthlessly with tax breaks, special bond financings and whatever other tools they can dream up to lure corporations. 

The public sees this happening most vividly in the case of sports stadiums. But it extends to all different sorts of industries, especially manufacturing. Southern states perfected the art of using massive incentives to convince auto companies to set up shop, but traditional factory hubs in the North have followed suit. Georgia spent $400 million in 2006 to land Kia. In 2009, Michigan gave General Motors $779 million to build more cars there.
There's a reason those numbers are so eye-popping. As states hustle to attract industries, they end up competing against each other in a race to the bottom. The Vikings could demand hundreds of millions of dollars worth of subsidies because Minnesota's football fans were terrified the team might pick up and head west to Los Angeles. The Redskins could just hint that they might cross Potomac. And there are plenty of union-light Southern states waiting with open arms if Michigan doesn't sweeten the pot for GM.
It's the every-state-for-itself mentality when you see when Texas Governor Rick Perry tells people he's going "hunting" for companies in California.
Is there way to put the breaks on on this scramble? Probably not, even if it does enrich large, sophisticated corporations that can go shopping for freebies at the expense of taxpayers. There is a potential upside, in that it forces individual states to make themselves internationally competitive, rather than waiting for a federal initiative. Then again, many of the companies that benefit would likely be operating in the United States anyway. And ultimately, it should put the lie to the idea that anybody -- Republican or Democrat -- is content to sit back and let the free market do its will.
Otherwise, the Redskins wouldn't be getting millions for their practice fields.