How State Spending Cuts Are Killing the Economy
President Obama might have been wrong to say the private sector was "doing fine," but he couldn't have been more right when he pinpointed the public sector as one of the biggest weaknesses in the economy. State and local governments have cut more than 100,000 jobs over the past year, and it's doing a number on growth: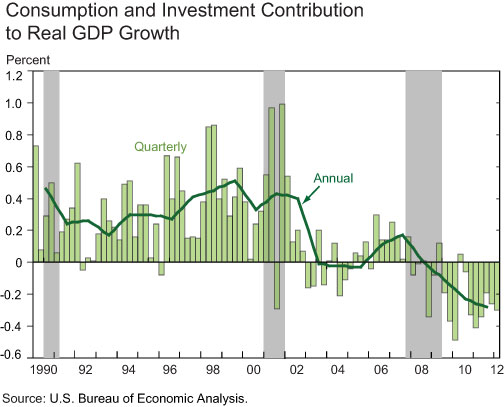 This graph from Federal Reserve Bank of New York's blog shows state and local government spending's contribution to GDP. The bars represent the impact each quarter, while the the green line tracks the annual average. The line nosedives after the recession, even with help from the stimulus. Last quarter, state and local austerity shaved around 0.3 percent off our growth rate. That's a significant dent, considering we grew at an annual rate of just 1.9 percent during those three months.

All of this is, of course, a completely self-inflicted wound. There is no reason the federal government shouldn't be borrowing at record low interest rates -- interest rates so low that investors are literally paying us to hold their money, once you account for inflation -- to finance aid to state governments.